The Creality Cr6 Se is an FDM personal Cartesian 3D printer that is sold as a DIY kit. It is super-easy to assemble, and you will have it running in less than 5 minutes. The printer boasts a rugged and sturdy Aluminum frame that offers unmatched rigidity that results in high print accuracy. It is incredibly easy to use, thanks to features like dual Z-lead screws and timing belts that offer smooth movement on the print head.
Further, the Creality Cr6 Se offers the best balance between speed and detail thanks to its advanced extruder that hosts a 0.4 mm nozzle. The print quality is pretty impressive; plus, you get convenient printing features like a filament run-out sensor and a print resume function. The Creality Cr6 Se is a quiet machine which is quite a surprise for an open-design machine. In sum, all these features at such an attractive price point make the Creality Cr6 Se sound too good to be true. Before you bet on the printer, check out our in-depth Creality Cr6 Se review to see it is a worthy investment.
Specifications
Dimensions
17.4 x 18.1 x 21.2 in
Slicer software
Creality Slicer, Cura, Reptier-Host, Simplify3D
Compatible materials
PLA, TPU, PETG, ABS, wood
Printing speed
80-100mm/s
Max printing volume
9.2 x 9.2 x 9.8 in
Review
The Creality Cr6 Se is one of the best professional 3D printers that money can buy. It is like an improved version of the popular Creality Ender 3 V2 as they share a lot in common but offers more reliable performance. The printer is designed to give you the best results quickly with exceptional easy-to-use features. Here is a detailed review that reveals the printer's capabilities and downsides;
Creality CR6 SE Overview
On paper, the Creality Cr6 Se is quite an interesting machine. Its brilliant design, technology, and reasonable price point are a pleasant surprise to most 3D printing enthusiasts.
What's in the box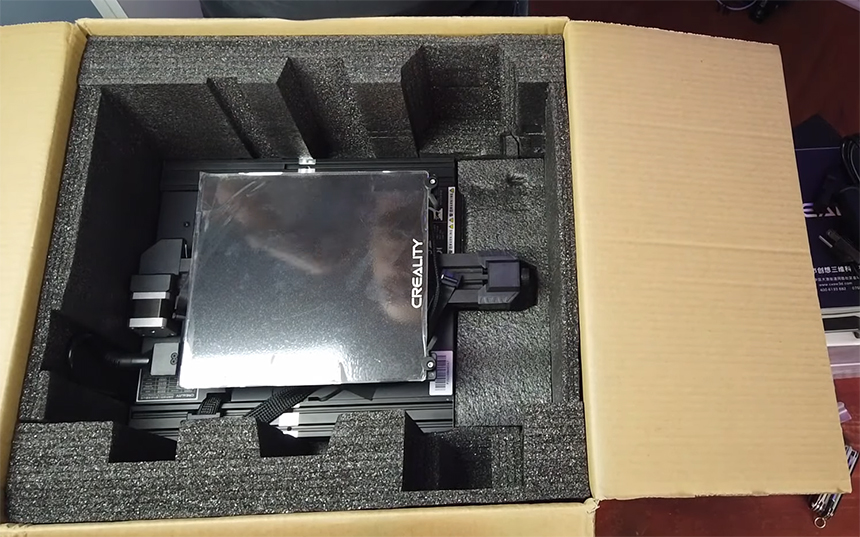 The Creality Cr6 Se comes in a compact package that has everything you will need for assembly and later operation. When you unbox the printer, you will find a drawer of tools at its base and a small spool of 200g white PLA filament. If you have unpacked other Creality 3D printers, you will be struck by the impeccable quality of the components and the extent of upgrades that the Creality Cr6 Se comes with. The printer's components ooze professionalism and longevity at first glance.
Some of the things included in the box are;
Pre-assembled frame with hot-end and extruder
Pre-assembled base with tool drawer and printing plate
Display
Carrying handle
Power cable
Tools (wrench, socket wrench, spatula, nozzle cleaner, side cutter, and Allen key)
Screws
8GB SD card and SD card reader
Creality sticker
Spare parts (2 nozzles)
The SD card has pre-installed 3D models and an instructions manual, an Operation video, a troubleshooting guide, and a Creality slicer software with drivers.
Price
The Creality Cr6 Se is reasonably priced for a printer designed to break new ground. Its printing performance and top-notch features are on par with its price point. Unlike many 3D printers within its price range, it offers an immensely satisfying bed leveling system and an easy-to-use touch screen that feels modern and second nature. The Creality Cr6 Se is $100 more than its predecessor, the Creality Ender 3 V2. They both have somewhat similar performance, but the Creality Cr6 Se is a worthy upgrade as you'll be getting a bigger build space and an HD touchscreen, among other features.
Construction
The Creality Cr6 Se boasts a sturdy construction that guarantees high print quality. Although its frame is connected with just a few screws, you will hardly need to re-level the print bed. You only need to tighten the screws properly. The printer's stable construction also prevents vibrations alongside the dual Z-axis and smooth movements of the print bed via toothed belts.
Overall dimensions and weight
The Creality Cr6 Se measures 17.4 x 18.1 x 21.2 inches, and it weighs 20 pounds. Its size is easily portable, plus it comes with a carrying handle that enhances its portability. The printer won't take up much space on your desk.
Further, the printer comes with a foldable spool holder, which you can mount on its back or side. The spool holder snaps right into the extrusion itself to provide a sturdy printing experience. When you are not using the printer, you can angle the spool holder at 90 degrees to save space. Its main benefit is that it helps distribute the printer's weight to the sides or back. It also makes the printer look professional.
Controls and screen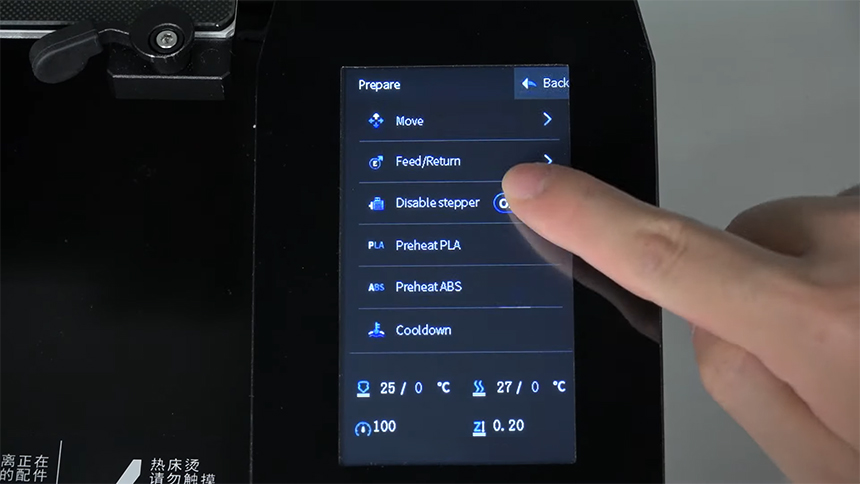 The 4.3-inch color touchscreen on the Creality Cr6 Se makes using it such a breeze even for total beginners. It has an attractive dark design and responds well to touch. Its user interface is generally easy to navigate. The menu on the screen is pretty straightforward, and it shows the most crucial settings like the print bed's and hot-end's temperatures.
The main menu has four sub-menus including;
Prepare: this menu has all the settings you need before and after printing, like moving, heating, and cooling the hot end.
Print: this is where you go to print the models stored in the SD card.
Control: here, you can change the language settings and change the temperature manually.
Level: this is where you go to start the automatic bed-leveling process.
Filament
The Creality Cr6 Se is compatible with various filaments including PLA, TPU, PETG, ABS, and wood. It comes with 200g white PLA filament so you can print your first models straight out of the box. Most importantly, the Creality Cr6 Se features a filament sensor that detects filament run-out of breakage. You have to push the filament through the sensor before pushing it into the extruder.
Bed leveling
Creality Cr6 Se has a unique automatic leveling system compared to other 3D printers. Many 3D printers with automatic bed leveling utilize optical sensors like BLTouch. Creality Cr6 Se uses strain gauges which explains its print bed's design. Once you have installed the print bed on the printer's base, you cannot adjust its height. It is through the strain gauge that the printer notices when the nozzle touched the print bed then stops its movement in the Z direction immediately.
The measurement method is highly accurate and you will hardly need to repeat because the print bed's alignment does not change after the fixation. Starting the automatic bed leveling process is such a breeze. Once you have confirmed that the nozzle is clean, you can go to the leveling menu on the touchscreen then press the button to start the process. Unlike many other Creality 3D printers that require manual leveling via a sheet of paper, the Creality Cr6 Se offers an entirely automatic process. Its force-based sensor ensures you have a truly leveled print surface with improved bed adhesion for high quality prints.
Software and connectivity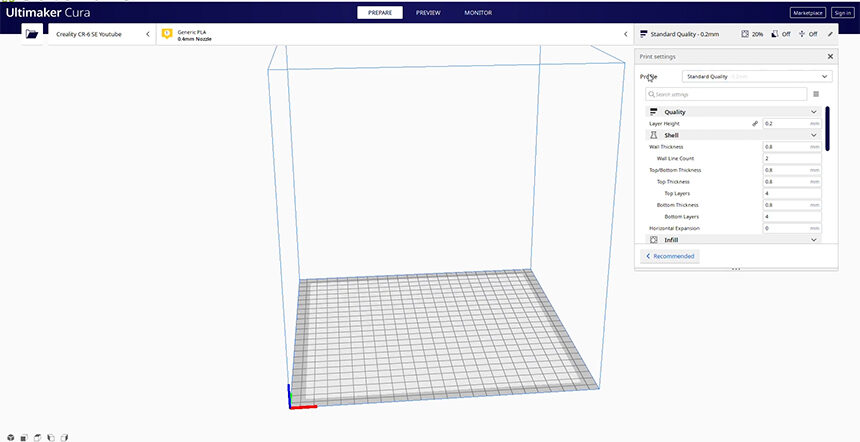 Creality Cr6 Se is compatible with a couple of open-source software applications like Cura Creality Slicer, Repetier host, and Simplify 3D. You can operate either of these applications pretty well via Windows and macOS. Plus, they are compatible with OBJ, STL, and AMF file formats.
In Cura, the Creality Cr6 Se has 4 preset profiles including; Super Quality 0.12 mm, Dynamic Quality 0.16 mm, Standard Quality 0.20 mm, and Low Quality 0.28 mm. With the well-set profiles, the printer is ready to use with little effort. You wouldn't need to change anything to get started.
Once you have a working connection between the printer and your computer, you can use a slicer to print directly from any of the software above. The live monitoring will allow you to see the printing progress and real temperatures of the nozzle and build plate. You only need to install USB driver for Creality Cr6 Se then create a serial connection.
Moreover, the Creality Cr6 Se is one of the 3D printers supported for the Creality Wi-Fi box and the Creality app.
According to Creality, the
Wi-Fi box
will allow you to monitor the printer, start prints, control temperatures and other functions. The Creality cloud app offers more slice designs.
Performance
With its wide range of first-rate features, it is hard to beat the Creality Cr6 Se when it comes to performance. It has the ultimate performance to price ratio as it offers everything you would ask for within its price range. Here is why you should choose the Creality Cr6 Se;
Ease of use
Right from assembly, to set up and general use, the Creality Cr6 Se is relatively intuitive. For starters, it comes pre-assembled and for the remaining bits, you can refer to the straightforward manual provided. The manual even features pictograms to guide you for a quick assembly. All you have to do is mount the frame, display, filament holder and carrying handle in that order then finish by tensioning the tooth belts and plugging in the cables.
The printer also has a couple of features that make operating it such a breeze. The innovative bed-leveling feature is a prime example. You only need to press a button on the touchscreen to get a perfectly leveled bed for the best quality prints. At least you get to escape the nightmare that manual bed leveling is. The touchscreen also makes control a tad easier. You will be able to do a lot by simply pressing a button.
The toolbox storage drawer is another neat feature that makes this printer's ease of use a notch higher. The drawer is right within the printer's actual frame so that you don't go scrambling and looking all over the place to find a tool you need.
A filament guide and sensor and resume print function also make the CR-6 SE incredibly easy to use. The photoelectric filament sensor will detect any possible filament breakage or run-out minimizing print defects. The filament guide makes filament feeding super-easy and accurate. The resume print function allows the printer to recover fully and continue printing in case you have a power outage or any sort of disconnection.
Beside the nozzle is a bright LED that gives your print bed a cinematic effect while allowing you to see your prints clearly. You will be able to identify any issues with the prints quickly or simply sit back and take pride in the prints you have created.
Modeling technology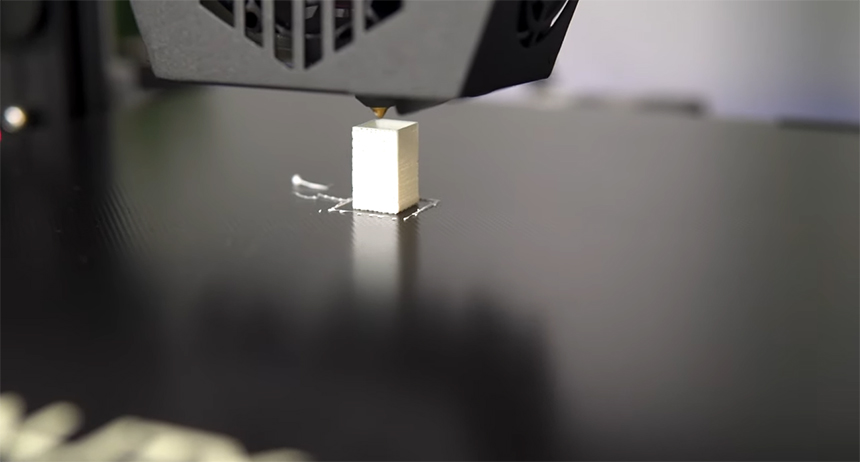 The Creality Cr6 Se uses the Fused Deposition Modeling (FDM) technology which is an additive manufacturing method. According to Creality, FDM is the most commonly used modeling technology in 3D printing innovation.
The FDM technology requires you to load a spool of thermoplastic filament into the printer. After the nozzle heats up to a desired temperature, the filament goes into the extrusion head and finally ends up in the nozzle where it melts.
The extrusion head of all FDM 3D printers is attached to a 3-axes system that makes it move in the X. Y, and Z directions. The extrusion head extrudes the melted filament in thin strands then deposits it in layers at a pre-determined location where it cools off and solidifies. Some extrusion heads feature a cooling fan to accelerate the cooling process.
You need multiple passes to fill an area. It is like coloring a rectangle with a marker. When one layer is done, the extrusion head moves up to deposit another layer. Other machine setups have the build platform moving down instead. The process is repeated until the whole part is built.
Most FDM 3D printers often come with low-quality extruders that need upgrading. The Creality CR-6 SE is an exception as it features an improved extruder that doesn't need replacing. The extruder is not made of plastic entirely like that of many cheap printers. It has a few metal components that make it exert good pressure on the filament. It also wears out slowly and together with the metal filament guide, it enhances the processing of flexible filaments.
When it's time to replace the extruder, you won't have a hard time as the SD card has a guide on how to re-assemble and disassemble it.
Noise level
The CR-6 SE features unique TMC2209 motor drivers and a silent 32-bit silent motherboard that offer precise and quiet printing. The stepper motor drivers and 32-bit motherboard are only available as upgrades to other Creality printers. The CR-6 SE comes with them straight from the box.
Besides fans, stepper motors are usually the primary noise generators on 3D printers. They are popular in the 3D printing scene as they are a top preference for making printers quiet as possible. The printer isn't too loud, not entirely quiet. You will hear some noise from the fans during operation. Moreover, the printer comes with vibration dampening feet that reduce any noise by absorbing the vibrations produced during printing. The vibration dampening feet make it a win-win case for both your ears and your prints.
Build plate
The CR-6 SE boasts a massive 235 x 235 x 250 mm build area. The build area is basically the printing surface and is usually made of a material that can offer sufficient first layer adhesion. A high-quality build area is essential as it impacts print quality. The CR-6 SE features a tempered glass build plate, which is an excellent option as glass offers the best adhesion when hot and easily releases the prints when cool.
Other Creality printers like the Ender 3 and CR-10 only have a glass bed as an upgrade option. The CR-6 SE comes with a glass print bed straight out of the box. If you are dissatisfied with the glass print bed, you can upgrade to other build plate types and materials with different benefits like the PEI spring steel. On top of being a great adhesion option, PEI spring-steel is flexible and magnetic. Plus, it is low-maintenance and it works with a wide range of 3D printing filaments.
The tempered glass print bed is permanently installed on the CR-6 SE printer base. The tempered glass is fixed on the print bed with two snaps which are much flatter and less likely to collide with the nozzle. The permanent installation of the print bed minimizes freedom of movement which simplifies bed leveling significantly.
Heating the print bed to 70 degrees Celsius will only take about 2 or 3 minutes. Further, the cable that supplies the build area with power has good bend protection that absorbs the movements of the printer well, thus would never break.
Unlike other low-budget printers that require you to enhance the print bed adhesion with things like glue sticks, hairspray, and blue tape, the CR-6 SE offers pretty decent adhesion. When it is hot, even large objects with small contact surface adhere well. It also releases the objects easily as soon as it cools down.
Safety of use
According to Forbes Trusted Source 3D Printers May Be Toxic To Humans Several new studies found that 3D printers emit toxic particles that may be harmful to humans. www.forbes.com , 3D printing can be toxic to humans. The CR-6 SE has a couple of features that provide all-around safety. It has overload protection, over-current protection and thermal protection which give you peace of mind during printing. To be entirely safe when using a 3D printer, especially when printing at high temperatures, invest in an enclosure. An enclosure is a box-like structure that your 3D printer goes into. It provides a warm and stable environment for your printer to help it achieve optimum print quality for sensitive materials.
Besides protecting you from the harmful fumes produced by temperature-sensitive materials like ABS, an enclosure can prevent external factors like air drafts and moisture from infiltrating its build area and potentially ruining your print. For your CR-6 SE, you can use either Creality's official enclosure or 3D UpFitter's acrylic CR-6 SE enclosure. You could also DIY your own enclosure to save some pocket change.
Printing speed and accuracy
The print quality of the CR-6 SE is just as good as that of others within its price range. the print quality is on par with an accuracy of 0.1 mm and layer thicknesses between 0.1 and 0.4 mm. You can hardly see the individual layers, but you can feel them with your fingernail. This makes the printer a prime choice for printing mechanical parts.
Another key feature that contributes to CR-6 SE's high print quality is dual Z-axis. The double Z-axis gives the printer enormous stability that guarantees more accurate prints than 3D printers with a single Z-axis. Most 3D printers with a single Z-axis suffer from 'z-wobble' whereby the z-axis vibrates when moving, causing various printing errors like ghosting and ringing.
With dual z-axes printers, the Z-axes are connected with a toothed belt which prevents either of them from moving.
Moreover, the CR-6 SE can print at a moderate speed of 60 to 100 mm/s and a maximum speed of 180 mm/s. For top quality prints you can maintain the speed anywhere between 60 and 150 mm/s. According to a research by Research Gate Trusted Source Research of the Influence of 3D Printing Speed on Printing Dimension In the process of 3D printing, the forming dimension of the extrusion fluid
material will directly affects the printing precision. Under the given materials, the printing speed is one of the important parameters affecting the forming dimension of the material. www.researchgate.net , faster printing speeds usually mean lower print quality. Printing quality is known to drop significantly above 150 mm/s. You may also experience problems as the filament tends to slip at such high speeds.
Resolution
The CR-6 SE has a print resolution of +/- 0.1, which is not a standard for most 3D printers. 0.1 mm is equivalent to 100 microns which is a pretty decent resolution for 3D printing. The normal default micron measure is 200 micros or 0.2 mm. The higher the number of microns, the lower the print's quality.
The 100 microns on the CR-6 SE is a good resolution and layer height because its layers are small enough to create invisible layer lines that result in higher quality prints and smoother surface. Also, do keep in mind that the better your resolution and print quality, the longer it takes to print. Ensure you do regular maintenance on your 3D printer because printing at lower microns requires a fine-tuned machine.
Who Should Buy It?
Anyone looking to achieve great results without any issues should buy the CR-6 SE. it packs a punch with multiple convenient features that offer a high level of comfort and ease of use. The innovative auto bed leveling is one of the highlights that make it suitable for 3D enthusiasts who don't want to get their hands dirty. The printer has a sturdy all-metal build that guarantees longevity as well as high-quality prints. Plus, as long as you use dry filaments, you will hardly experience printing errors.
PROS
CONS

Stylish and rugged design
Quiet operation
Sturdy construction
Easy to use
Easy assembly and setup
High print quality
Excellent value for money

Its PTFE tube is not suitable for extremely high temperatures
Open print volume
Conclusion
From our detailed Creality CR-6 SE review, it is pretty evident that it is a 3D printer to be reckoned with. Creality was intent on creating the best consumer 3D printer by integrating nearly all of the DIY upgrades that users liked to add to previous Creality models. Some of the upgraded features on the CR-6 SE include; a glass build plate, auto-bed leveling, dual z-axis motors, and improved quick-action extruder, filament sensor, a silent mainboard and belt tensioners. Although many 3D enthusiasts think the CR-6 SE is a souped-up version of Creality Ender 3, all the feature upgrades and a sleek design make it a highly valuable option for anyone who doesn't want to get their hand dirty.
References
1.
3D Printers May Be Toxic To Humans
Several new studies found that 3D printers emit toxic particles that may be harmful to humans.
2.
Research of the Influence of 3D Printing Speed on Printing Dimension
In the process of 3D printing, the forming dimension of the extrusion fluid
material will directly affects the printing precision. Under the given materials, the printing speed is one of the important parameters affecting the forming dimension of the material.