3D printers have become quite popular these days since they allow you to create a variety of usable items right in the comfort of your own home. These include models, costumes, building designs, and so much more, which makes these devices handy for home and professional use. Of all the models available, the Ender 3 is one of the best, due to its amazing performance and budget-friendly price.
Of course, if you're going to purchase one of these models, you'll want to consider the Ender 3 bed size, which determines the size of the prints that you can create. You may also want to compare the printing bed size with the print volume since these numbers don't exactly match up. These features shouldn't be the only ones you consider, though, since this model is high quality, lightweight, and can fit on almost any desk or countertop. For more information on what the Ender 3 has to offer, check out the information below.
Printing Bed Explained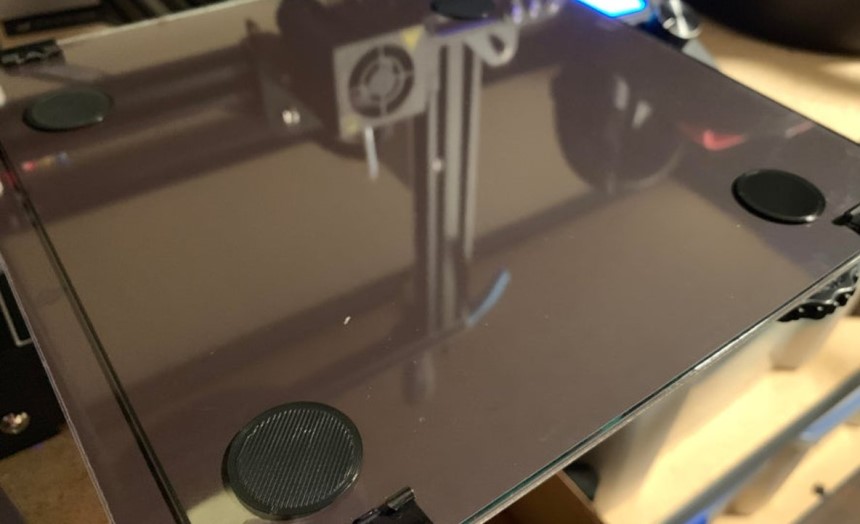 There are a wide variety of 3D printers available for whatever you have in mind. There are 3D printers for miniatures that work best for smaller items, as well as 3D printers for cosplay that allow you to make fantastic costumes for all your events. The Creality 3D printers offer a wide range of models for those of all skill levels to make every project that you have in mind.
Regardless of which one you buy, what these devices have in common is the printing bed, which is the most important part of one of these printers. This is the area that the filament used for your 3D object layer upon, slowly building until it's created the finished product. Some models include a printing bed that remains in place while others move as needed to form the printed object.
The higher the quality of the printing bed that is used in the 3D printer, the more firmly it will hold the filament used to create the model in place. If the filament moves at any point in the build, the 3D print will fail or warp, altering the finished product and likely requiring you to redo the entire piece.
Of course, you also need to be able to remove the 3D printer after the printed model is completed, so the construction and materials used for the print bed need to allow for this without damaging the finished product.
What about measurements?
Those who aren't familiar with 3D printers may find all the information about sizes and dimensions a bit confusing. The Ender 3 model is built to be compact without sacrificing the quality of the materials and the printing. It allows you to build models of varying sizes, which is perfect for those who want to try out a few different ideas.
The Creality Ender 3 3D Printer has print bed dimensions of 235 x 235 mm, though the maximum construction volume is stated to be 220 x 220 x 250 mm. This means that you can't use the whole print bed to print, leaving about 15 mm on each side open. This may seem a bit strange that you're losing all of this extra space, though there is a reason for this. We'll discuss why the manufacturers of these 3D printers choose these specifications below.
Creality 3 Specs
The following are the main specifications the Creality Ender 3 has to offer.
| | |
| --- | --- |
| Overall dimensions | 8.7 x 8.7 x 9.8 in |
| Printing bed dimensions | 9.2 x 9.2 in |
| Bed temperature | 230° F |
| Build volume | 8.6 x 8.6 x 9.8 in |
| Overall weight | 17.6 lbs |
Printing size explained
As we discussed above, Creality states that the Ender 3 Pro print size is 14% less in volume than the dimensions of the bed could actually provide. This is likely due to the fact that this 3D printer uses mechanical joints to guide it, which aren't always as accurate as you may expect them to be.
That's why this brand is required to include these types of tolerances when they determine the print volume the machine is capable of. To get the highest quality print possible, they calculated a specific number of tolerances, depending on the brand of 3D printer you've purchased.
The supplied printing bed may also include binder clips, which need more play than the models without them. These don't always achieve the largest 3D print possible because of this feature since the clips need a bit of room on the print bed to hold everything together.
Can You Change Printing Volume?
Yes, you can change the print volume to create larger models on your 3D printer if needed. There are some experts who have even achieved the full 235 x 235 x 250 mm print volume, though this shouldn't be tried by everyone. Beginners to 3D printing may not have the skills needed to achieve such volume, so it is best to get used to your printer the way it is before trying to change anything. Once you have gained more experience with this model, then you may be able to start increasing the volume a bit at a time.
Can it break the 3D printer?
No, altering the print volume won't break your 3D printer. The issue has to do with the tolerance margin since the prints you're trying to create can deviate a bit during the printing process. There could also be shifting of a few millimeters in the printing bed at times, so it may not always be sitting in exactly the same place when you start it up.
Of course, this doesn't mean that you shouldn't attempt to increase the build volume of your Ender 3. You may just want to be careful with how much extra space you're adding to the print bed. Rather than going to the very edges of this area, it may be better to just adjust the volume to about 230 x 230 x 250 mm instead, which gives you about 5 mm on the sides to work with to give you larger models without the risk of going over the edge.
How to increase build size
If you want to increase the build size and give yourself a higher print volume, there are a few ways to do this. You can replace the binder clips the come with your Ender 3 print bed with smaller ones or even use tape or some other type of adhesive material to hold it in place, giving you more room to work with.
You can also replace the printing bed. A magnetic one, like the Creality Original Ultra-Flexible Removable Magnetic 3D Printer Bed, fits the Ender 3 model perfectly and requires no clips since it is magnetically secured to the printer, plus is easy to remove when needed. This allows you to increase the Ender 3 maximum bed size to give you more room for your projects.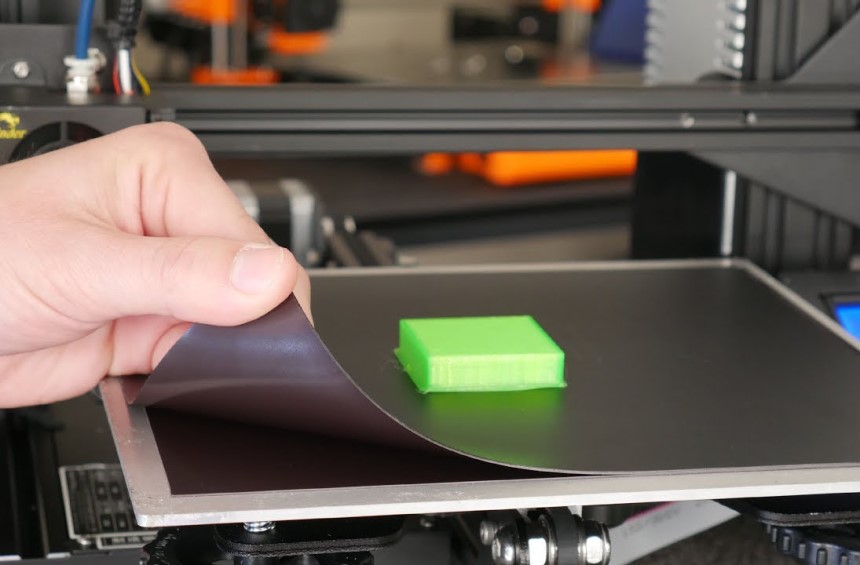 Another way to increase the Ender 3 print area is to update the firmware, which allows you to then set new Ender 3 bed dimensions to whatever you like for those larger projects.
How to Upgrade Creality Ender 3
The Creality Ender 3 is a fantastic model but there may be some upgrades required to meet your needs. These types of upgrades may be a bit tricky for beginners to install, though they aren't impossible. It may take a bit of research in order for you to do it properly, depending on the upgrades you're looking for, though none of these alterations are too difficult if you have even some minimal skill in this area.
Change hotend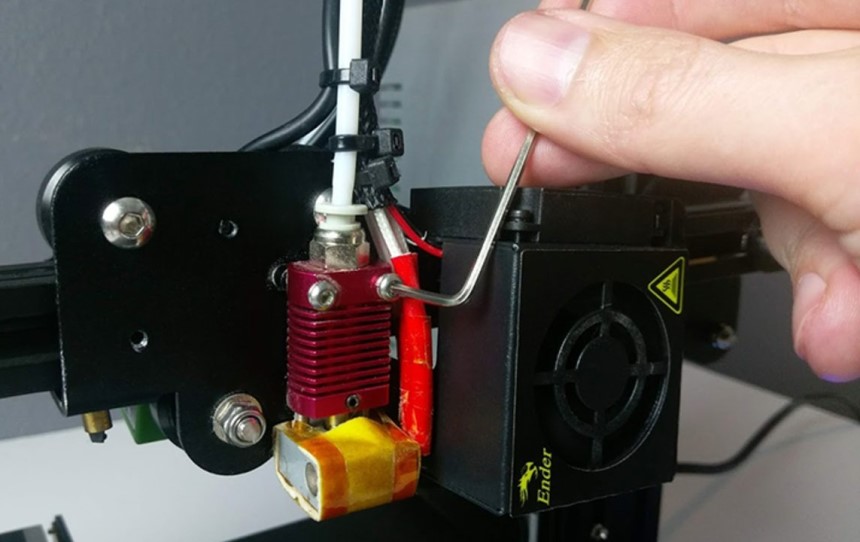 The hotend is one of the most important parts of your 3D printer. It contains a few specific parts, including the nozzle, heating block, temperature probe, heating cartridge, heatbreak, and heatsink. Together, these pieces melt and extrude your chosen filament and then deposit it onto the print bed to create the design that you've selected.
Many of the parts of the hotend can be altered, so you can choose different types, sizes, and materials Trusted Source The Dog Bone Problem: How The Virtual Foundry 3D Prints Metal The company produces an extensive line of metal filaments for 3D printing they call Filamet. Their products currently include a range of materials from aluminum to titanium. www.fabbaloo.com to create the perfect one to meet your needs. You can also alter the filament you're using with the hotend to a higher quality product. The Comgrow 3D Printer PLA Filament is 1.75 mm in diameter and can be used with any 3D printer that can handle this size.
Change printing bed material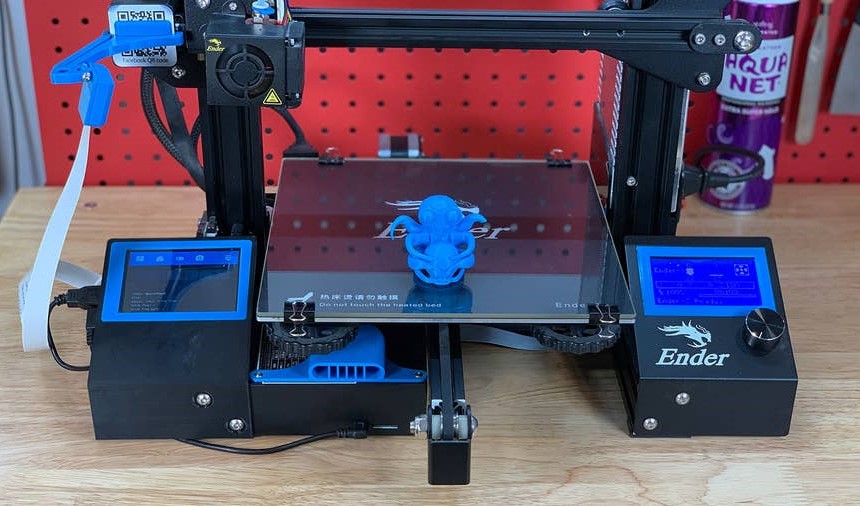 Another way to upgrade your 3D printer is to switch to a different printing bed material. One option is polypropylene, like the material used for the Mamorubot 3D Printer Platform Polypropylene. This piece works well with a variety of filaments, including PLA, ABS, PETG, and wood. This material is also durable and rigid, so it has a much longer life than some other types of printing beds and is much easier to clean.
You can also try a print bed made of glass, which is fixed in place using clamps. There is usually a coating of silicone or carbon, which allows the prints to hold tight during the printing process, which reduces slipping and warping of the finished product. It resists heat, so it is great for all types of filament, especially ABS. The Dawnblade Creality Ender 3 Glass Bed is a good option, due to the coated glass bed, which offers a flat and smooth build surface.
A magnetic, removable printing bed is another option. These beds are bendable, which makes it easier to remove the finished printed objects, though the filament may not hold as well to the surface of the bed during printing as with the other two materials.
Add parts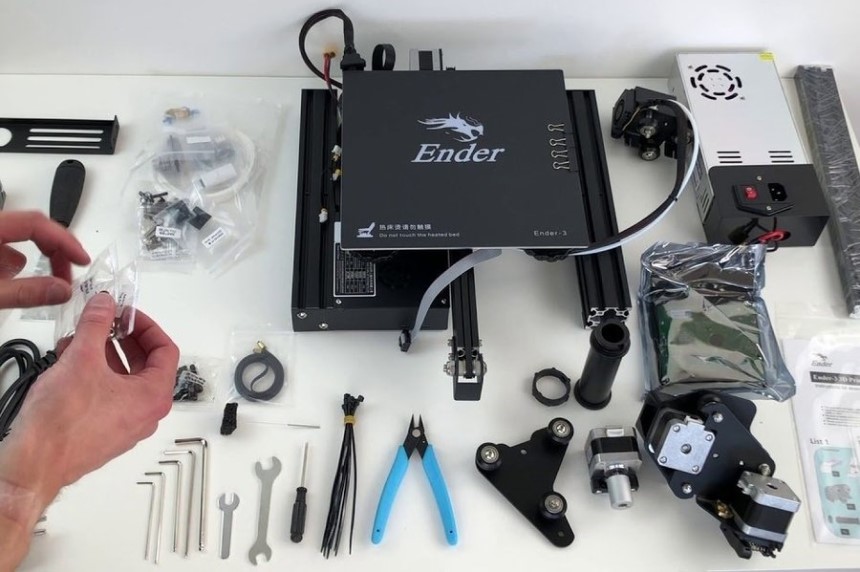 Rather than swapping out the existing parts, you can add more of them to the 3D printer. One of these is a laser engraver, which allows you to customize your object with your signature or logo. You can also personalize the projects you have in mind by engraving special messages or names when giving your models as gifts. The Creality 3D Printer Laser Engraver is a good addition to your Ender 3, due to the premium laser diode, adjustable focus, and fast heat dissipation it has to offer.
Extend mainboard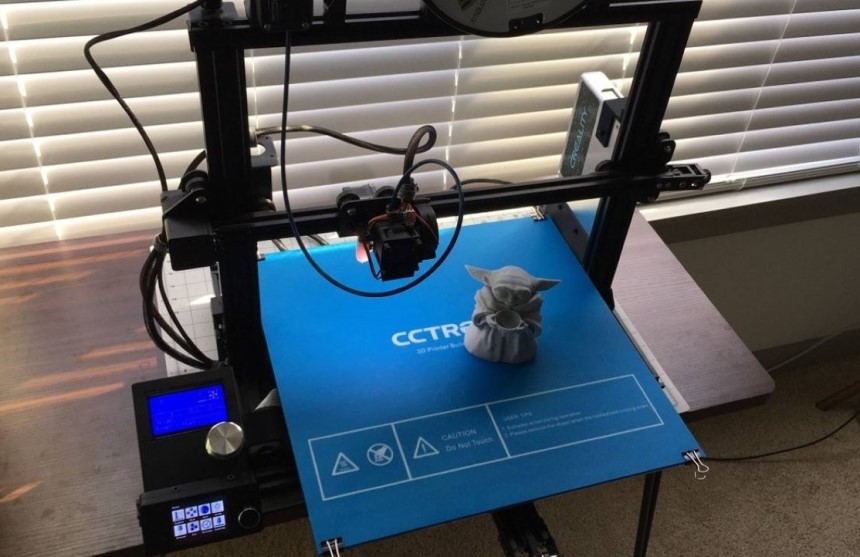 The mainboard Trusted Source The Anatomy of a 3D Printer: Controller Boards The brain within your 3D printer has to do and keep track of a lot of things. Read on to see what it takes to control and run our favorite little machines. www.matterhackers.com goes by a few different names, including the motion controller and motherboard. It is the most important part of the 3D printer since it is the piece that is responsible for all of the electronic functioning of the machine. These functions include moving the motors, regulating the temperature, and parsing g-code files. Without the mainboard, your 3D printer wouldn't be able to do any of the work it is required to do.
You can exchange or extend the mainboard whenever you like as well. There are a variety of new updates available and new ones coming out all the time from Creality, all of which are easy to install, even for beginners. These Silent Mainboard Accessories easily plug into the Ender 3 and Pro models, though those using the Ender 3 V2/5 require updated firmware before you can use it. It comes with everything you need for installation as well for added convenience.
Choose a case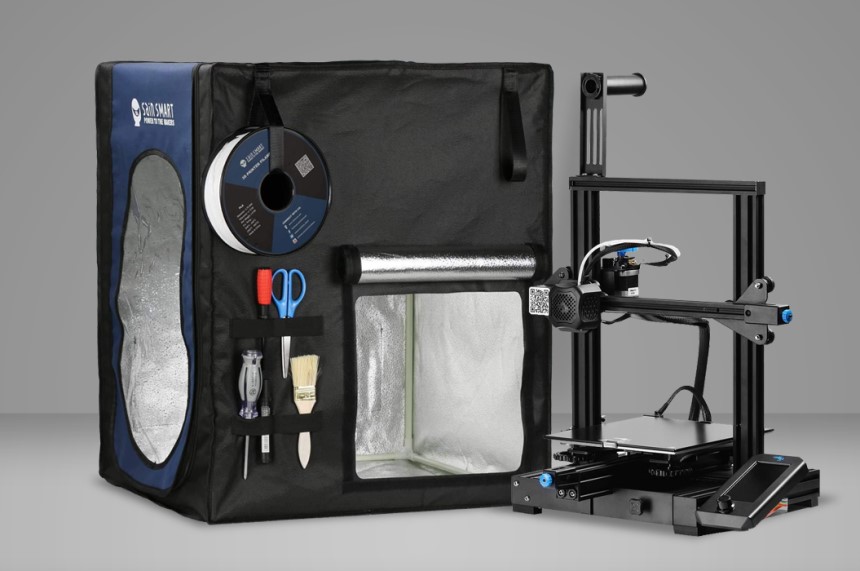 Most 3D printing machines have an open design, though not everyone likes this lack of an enclosure. It makes it more difficult to keep the printing bed and other important parts of the machine as clean as possible, whether you're using your 3D printer every day or only for special projects.
Adding a case to your Creality Ender 3D printer offers some extra protection from dust, dirt, and anything else floating in the air near your machine. You can still view everything happening inside while the case is on, thanks to the viewing window that gives you a full view of the printing that's happening inside.
The Comgrow Creality 3D Printer Enclosure is a favorite because as well as being dustproof, it is also fireproof, thanks to the pure aluminum film and flame retardant material used. It can handle high temperatures, plus it is easy to install.
3D Printers to Consider
Though the Creality Ender 3 printer is a great model, it may not be the right one for everyone. If you're interested in a different model, this brand has several to choose from, with varying features that may just give you exactly what you need to create the perfect 3D printed projects for home use, gifts, or professional sale. The following three are just a few that you may want to check out.nder 5 Plus
The Ender 5 Plus is a large model with durable aluminum construction, a decent print size of 350 x 350 x 400 mm, and easy assembly using the included tools. It can be used with a variety of filaments, including PLA, ABS, copper, wood, gradient, and Soft Glue. The handy HD touchscreen is easy to use for all your projects.
CR 10 Mini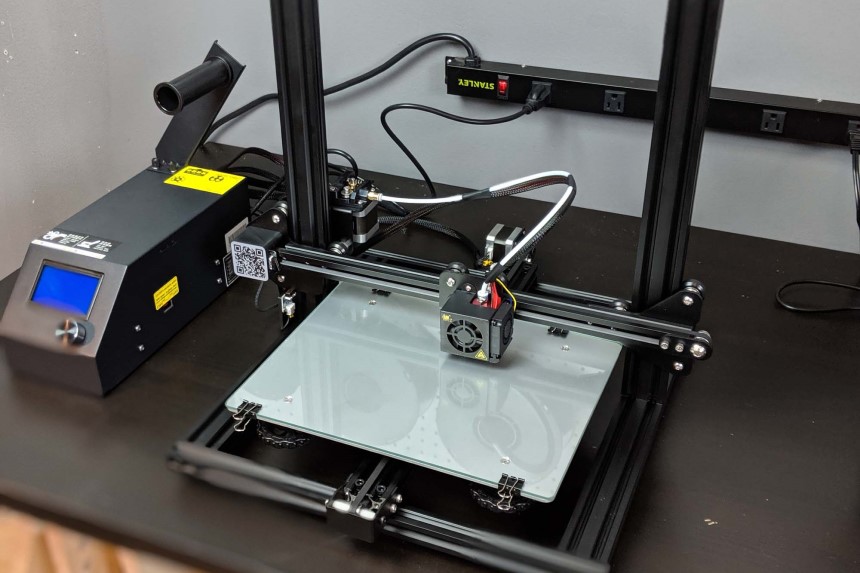 The CR 10 Mini is the smaller version of the original Creality CR 10, though it maintains many of the amazing features. It includes a full metal frame, a heated print bed, and an acrylic base for the best support possible. It is also lightweight and takes up only a fraction of the space of a larger model, though it still has a decent build volume of 300 x 220 x 300 mm.
Ender 3 v2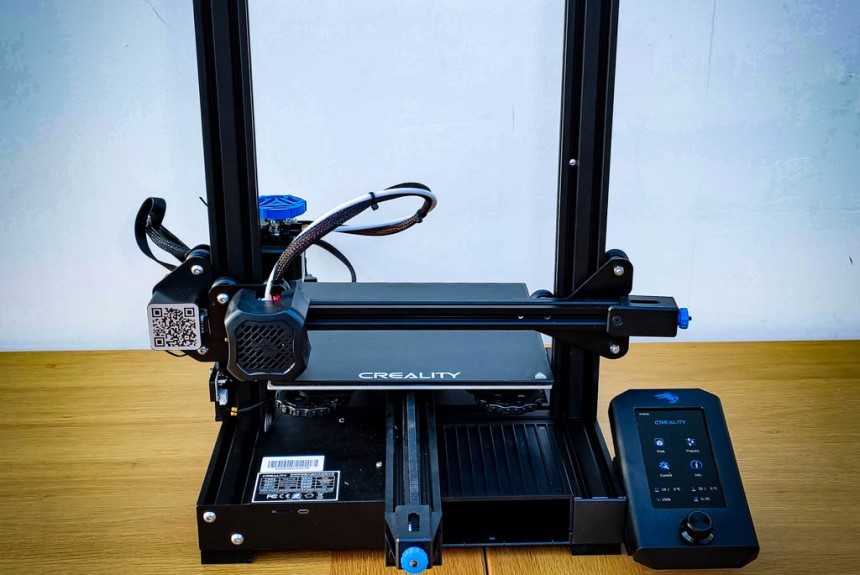 The Ender 3 V2 is the upgraded version of the Ender 3. It includes features like the self-developed motherboard, a built-in extruder fan for fast cooling, and a simple user interface that's great for beginners. The Ender V2 bed size offers a build volume of 220 x 220 x 250 mm.
Final Thoughts
Those who are in the market for a great 3D printer will likely be checking out what the top brands have to offer. Though they have several to choose from, the Ender 3 model from Creality is a favorite for a variety of reasons. This model is lightweight and compact, which makes it easy to fit it where you need it and take it with you for some printing on the road.
It has a ton of great features, many of which can be upgraded to suit your specific needs. Of course, the Ender 3 bed size is also something to consider since this will determine the maximum size of the finished projects you can complete. Luckily, this model has a decent area to work with and can even be altered to give you more volume if necessary, so you can create the perfect printed items for any occasion.