For 3D Print is reader-supported. We may earn a commission through products purchased using links on this page. Learn more about our process
here
Though they may not have been the first company to make 3D printers, Creality has still become one of the top names in the industry. They have several models available, with varying functions and sizes, so you can get exactly what you want from one of these machines.
Their Ender series is one of their most popular, though many people compare the Creality Ender 3 Pro vs Ender 3 V2 models since these are both upgrades of the original Ender 3. While the Ender Pro was designed as a professional model, the V2 includes some innovations and features that may be better for those who take their 3D printing more seriously. For more information on what these two models have to offer, keep reading.
About Creality
Though 3D printers have been sold on the global market since 2012, it wasn't until 2 years later that the 4 founders of Creality began their Shenzhen-based company. In less than a decade, Creality has grown significantly, with over 500 people on their R&D team alone.
The Creality Ender 3 model quickly became one of the most popular models for those new to 3D printing, so the Ender 3 Pro and Ender 3 V2 only needed to expand on what was already working. The Pro improved the base, power supply, and fan position, plus added a new magnetic print bed. The V2 went a bit further, adding an HD color screen, a glass print bed, a 32-bit motherboard, and even a tool drawer.
Popular Models Comparison
ENDER 3 V2
ENDER 3 PRO
Overall dimensions
18.7 x 18.5 x 24.4 in
17.3 x 16.5 x 18.3 in
Build volume
8.6 x 8.6 x 9.8 in
8.6 x 8.6 x 9.8 in
Compatible materials
PLA, TPU, PETG
PLA, TPU, wood, copper, ABS, gradient
Layer thickness
0.1-0.4 mm
0.1-0.4 mm
Molding technology
FDM
FDM
Slicer software
Simplify3d, Cura
Simplify3d, Cura
Accuracy
±0.1 mm
±0.1 mm
Hotbed temperature
212° F
212° F
Filament diameter
1.75 mm
1.75 mm
Overall weight
17.1 lbs
15.3 lbs
VIEW ON AMAZON
VIEW ON AMAZON
Main Features Comparison
The best way to decide which one of these models is best is to figure out the differences between the Ender 3 Pro and The Ender 3 V2 models. This makes it easier to figure out which one has the features you want for the projects that you have in mind.
Frame
The Ender 3 Pro includes an amazingly sturdy all-metal frame, thanks to all of the little details that were put into the construction of this 3D printer. These include the high-precision CNC machining techniques, which were included in the production and installation of all of the metal brackets and mounts.
This ensures that every part of the machine is precisely positioned to create a more stable device. It also includes larger bed leveling nuts to ensure faster leveling to leave more time for printing your chosen projects.
The Ender 3 V2 also includes the same all-metal body as the previous versions, though it also added an integrated structure and a modular design, which includes a concealed power supply that is located within the machine instead of on the outside. This makes it much safer and easier to use, even if it's your first time trying out one of these machines.
This model also has much stronger anti-interference, plus it offers quicker and more stable motion performance for much more precise designs. A handy toolbox is also added to the frame for storing anything you want close and organized. Adjustable tensioners help increase the lifespan of the belts on the X- and Y-axis, while a rotary knob makes it easy to manually load filament.

Build volume
You won't find any difference when comparing the build volume of the Ender 3 V2 vs the Ender 3 Pro models. Both of them have identical areas of 8.6 x 8.6 x 9.8 inches, so you'll be able to build the same size of 3D models, no matter which of these fantastic machines you've chosen to use.

Filament compatibility
The Ender 3 V2 is compatible with only 3 different filament types, though this may be more than enough for you to create the models that you have in mind. PLA is one of the most common filaments there is, so is used for a variety of common items. PETG is an industrial strength filament that combines the simple use of the PLA with the durability and strength of ABS, so it is best for mechanical parts or other high-use items. TPU has more of an elastic consistency, plus it is oil, grease, and abrasion-resistant.
Though the Ender 3 Pro is also compatible with the PLA and TPU filaments, there are also a wide variety of others to choose from. ABS is another common one that is best used for durable parts that can withstand high temperatures. Other filaments that you can use with this model include gradient color, carbon fiber, wood, copper, and a few more.
Filament diameter
Though they may not use the same types of filaments, both the Ender 3 Pro and the Ender 3 V2 3D printers require the use of the same filament diameter of 1.75 mm. This size is more common when it comes to printing filaments, plus it allows for finer control, so many home printers prefer this type over the larger 3 mm filament size.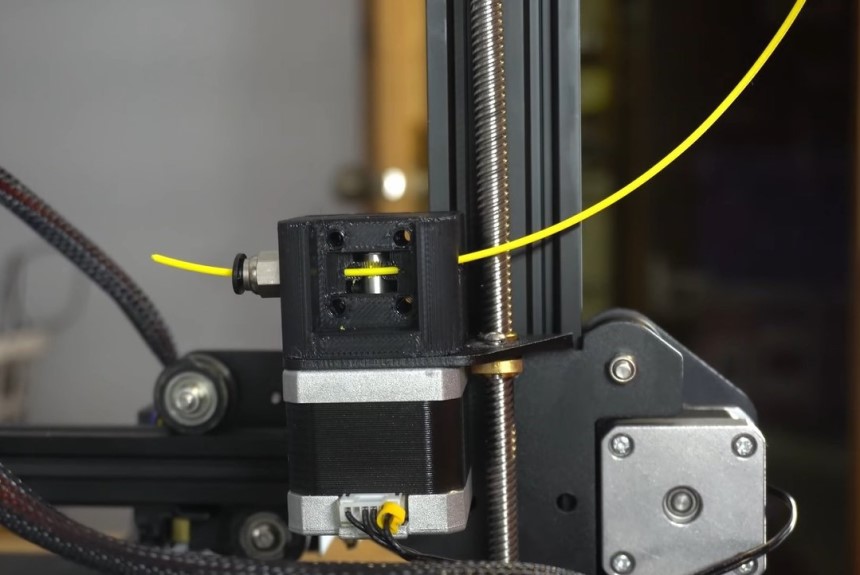 Bed plate material
The bed plate material is one of the most important parts of your 3D printer since this is the surface that is used to create the 3D models that your printer is creating. The Ender 3 Pro uses a C-Mag magnetic bed, which features a textured surface that allows the filament to adhere better, plus it is removable and flexible to get the finished models off.
The Ender 3 V2 uses a Carborundum glass platform, which allows the hotbed to heat much faster and helps the prints adhere better, holding them in place throughout the entire printing process. It also reduces warping, so you'll end up with smooth layers from start to finish.
Nozzle diameter
Both the Pro and the V2 come with the standard 0.4 mm nozzle diameter, though this can be swapped out with a 0.3 mm or 0.2 mm nozzle if you are interested in creating more intricate pieces with better detailing. This will slow down the printing process, so may not be a good idea if you have to create a bunch of 3D prints in a short amount of time.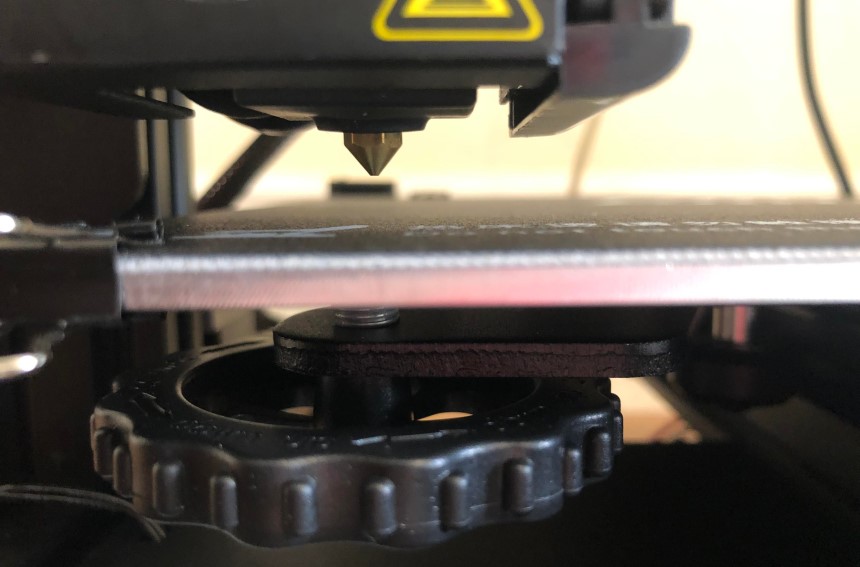 Modeling technology
Another feature that is identical when choosing between the Ender 3 Pro and the Ender 3 V2 3D printers is the modeling technology used. Both of them use FDM technology, which we mentioned above. This technology involves the melting of filaments before depositing them through the nozzle onto the print bed in layers to create the design that you've chosen.
Hotbed temperature
Once again, both of these 3D printers feature the same hotbed temperature, which is a maximum of 212° F. Though not every filament you use requires a heated bed to create the perfect 3D prints, some do require this feature. This is because the filaments could shrink during the cooling process, which will cause warping that can ruin the finished product. A heated bed allows the filaments to cool slower to help eliminate this warping.
A hotbed can also provide the proper adhesion during printing, so those first layers stick well to the printing bed and prevent shifting during the rest of the design. Be sure to check the temperature needed for the filament you're using for the best results.
Dimensions and weight
Though the dimensions and the weight of the 3D printer you purchase may not have anything to do with the printing process itself, they are still details you may want to look into. These will tell you how much space the model will take up on your table or desk and how difficult it is to move around when needed.
The dimensions of these two 3D printers are somewhat different, though not shockingly so. The Ender 3 Pro is 17.3 x 16.5 x 18.3 inches, while the Ender 3 V2 has dimensions of 18.7 x 18.5 x 24.4 inches, which makes it the larger of the two printers, so you'll need a bit more space for it.
As for the weight, the Pro is 15.3 pounds, while the V2 is heavier 17.1 pounds. The V2 is a bit harder to move, though not impossible, so you can likely take either of these 3D printers anywhere you need them.
Supported OS and working mode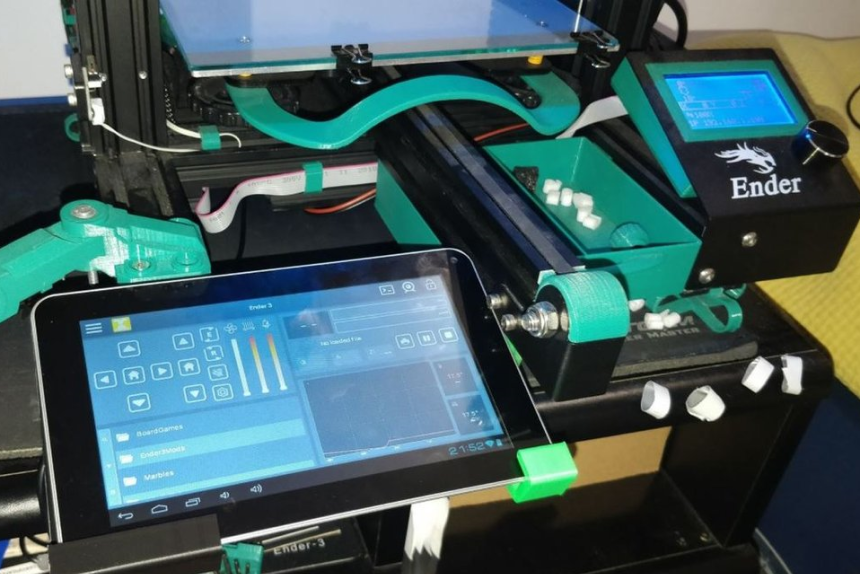 Like the Ender 3 3D printer, the Pro and the V2 are compatible with both Windows and Mac for their operating system. There are also a variety of software options available to use with these printers, so you can pick the one that you prefer for the designs you want to create.
For the working mode, you can go online or use an SD card offline for the designs that you've chosen when working with either of these printers, which makes it easier to print your models anywhere you are.
Durability
Both the Ender 3 Pro and the Ender 3 V2 have a somewhat delicate appearance, which makes them seem like they are extremely fragile and in need of extra care. Of course, this isn't the case with these two handy 3D printers.
They both include an integrated all-metal body Trusted Source How 3D-Printed Sustainable Packaging Meets Corporate Goals and Consumer Demands In additive manufacturing (AM), also known as 3D printing, fabricating parts and products can result in 70 percent to 90 percent less scrap waste when compared to traditional methods of manufacturing. www.3dnatives.com , which is the same design as the original Ender 3 model. This design offers strength and stability, so your 3D printer can handle more than you may think it is capable of. This doesn't mean that you should mishandle it, though you do not need to treat it as if it's made of glass.
Performance
Now we will compare both 3d printer in how they do the scheduled tasks, look closely at printing accuracy and other important parameters.
Where it's used
The Ender 3 V2 creates 3D models that are extremely detailed, so you can use it for almost anything you like that requires this level of precision. This makes it a good option for architects who are building models for their clients, educators who are creating prints for their students, and even hobbyists making some amazing toys and collectibles.
You can make many of the same items with the Ender 3 Pro 3D printer, though it does allow the use of a few other filament types, which we'll discuss more below. These alternative filaments allow you to expand the projects you can complete, so you can create jewelry, sculptures, wooden busts, and much more. This makes this a better model for a wider variety of uses, so if you like to explore different options or you need to create something using more of the specialty filaments, this 3D printer may be a better option.
Precision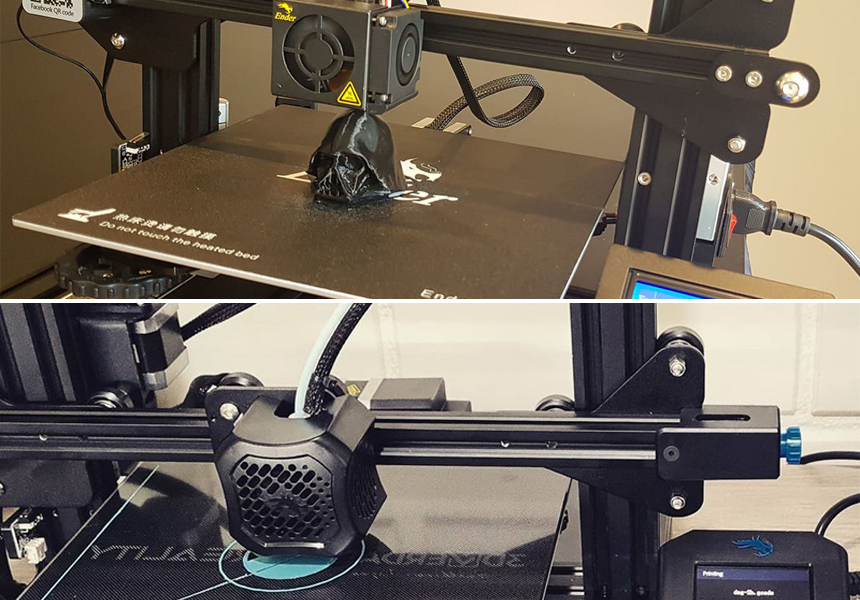 When it comes to 3D printing, precision Trusted Source Understanding Accuracy, Precision, and Tolerance in 3D Printing Learn what accuracy, precision, and tolerance mean for your 3D printer, and how to think about them in the context of 3D printing and its applications. formlabs.com refers to how reliably the machine can produce the results that you expect it to every time you put it to work on your chosen project. If you're making several of the same items, like the pawns on a chessboard, will they all look the same or will there be noticeable flaws in every piece? The more precise the machine is, the more identical your finished pieces will be.
Both the Ender 3 Pro and the Ender 3 V2 use FDM, or Fused Deposition Modeling, technology. This means that the layers used to create the 3D models are extruded by a nozzle, which may not have the control or capability to create the detailing of other types of 3D printing technologies. Of course, the Creality boasts that both of the printers are still capable of printing precision of +/- 0.1mm, so you may be pleasantly surprised with the results.
Layer thickness
The layer thickness for both the Pro and V2 3D printers is identical, with a range of 0.1 to 0.4 mm. This allows you to choose the thinner, more precise layers for your more intricate designs or the wider layers to get the printing process done faster.
Of course, you should keep in mind that thinner layers don't always create better prints since they require more time and could result in more errors during the printing process. Sometimes, the lower resolution of the thicker layers produces a higher-quality product. The range is nice, though, since it gives you the option of altering the thickness for each project as you see fit.
In Conclusion
The Ender 3 Pro and V2 models are both upgrades that take what the original had to offer and made it better. They have many of the same features, including the build volume, precision, nozzle diameter, layer thickness, and hotbed temperature.
Of course, there are a few notable differences when comparing the Ender 3 Pro vs Ender 3 V2 models. The V2 uses a Carborundum glass platform, a better power supply, a 32-bit motherboard that is quick and quiet, and tensioners, and a rotary knob for easy filament loading. It also has a handy tool drawer that you can use to store whatever you like.
The Pro may lack these extras but it is smaller and lighter, with more filament options to choose from, so you can expand your printing projects however you like. It also has a lower price, so it is much more budget-friendly.
References
1.
How 3D-Printed Sustainable Packaging Meets Corporate Goals and Consumer Demands
In additive manufacturing (AM), also known as 3D printing, fabricating parts and products can result in 70 percent to 90 percent less scrap waste when compared to traditional methods of manufacturing.
2.
Understanding Accuracy, Precision, and Tolerance in 3D Printing
Learn what accuracy, precision, and tolerance mean for your 3D printer, and how to think about them in the context of 3D printing and its applications.