For 3D Print is reader-supported. We may earn a commission through products purchased using links on this page. Learn more about our process
here
3D printing has exploded in the past few years. Not only are businesses able to produce items, but even home crafters have created a new line of unique designs. There are different sizes of 3D printers, so it is important to find one that can handle your needs. In this article, we'll compare the Ender 5 Plus vs Ender 6. Both are large capacity printers and while they are from the same company, they do have different features. We'll walk you through what to expect and help direct you to a logical conclusion. Whether you are just getting into the world of 3D printing, or need a new machine, we want to help you out.
About Creality
Creality is a company headquartered in China. They produce innovative products that focus on 3D printing, along with the technology around them. In just under ten years, Creality has managed to become one of the leading 3D printer companies, thanks to their innovation and high manufacturing standards.
Popular Models Comparison
Ender 5 Plus
Ender 6
Printing technology
FDM
FDM
Build volume
13.7 x 13.7 x 15.7
9.8 x 9.8 x 15.7 in
Printing speed
7.8 in/sec
5.9 in/sec
Filament diameter
1.75 mm
1.75 mm
Nozzle diameter
0.2-0.4 mm
0.4 mm
Filament compatibility
PLA; ABS; TPU; Wood; HIPS etc.
ABS; Wood; PLA; HIPS; TPU etc.
Screen
4.3 in LCD
4.3 in LCD
Dimensions
24.8 x 26.2 x 24.3 in
19.4 x 19.4 x 25.5 in
Weight
39.6 lbs
48.5 lbs
Return policy
30 days
30 days
VIEW ON AMAZON
VIEW ON AMAZON
Quick Comparison
The Ender 5 Plus was released in 2019 and offers a few more options, such as build volume and nozzle diameter. In contrast, the Ender 6 was released in 2020 and has smaller dimensions and a faster printing speed. Overall, however, they both offer the same 30-day return policy and are made with quality construction.
Construction Comparison
A lot needs to go into a 3D printer so that it lasts under the pressure and the heat. With the rise in 3D printers Trusted Source Global 3D Printer Market Report (2021 to 2030 ) - COVID-19 Growth and Change This report provides strategists, marketers and senior management with the critical information they need to assess the global 3d printer manufacturing market. www.businesswire.com , there is now a better emphasis on crafting longer-lasting devices that provide better value for money. Here is how both models stack up within their construction details.
Build dimensions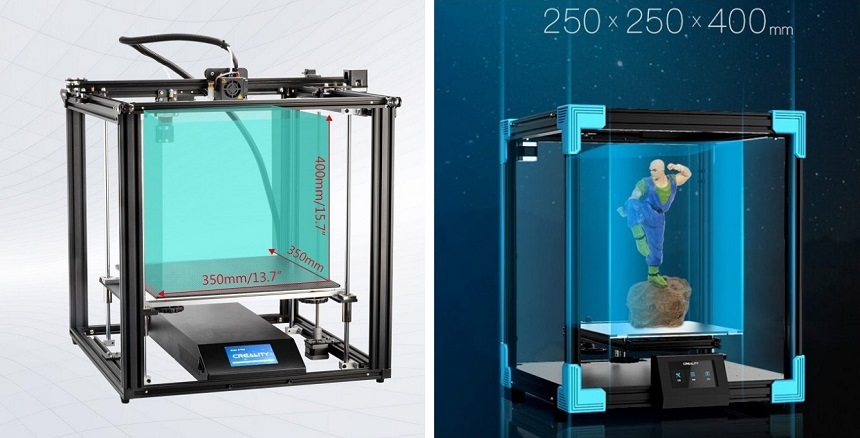 Perhaps one of the most important considerations with a 3D printer is its build dimensions. This refers to how large an object you can actually print. However, larger is not always better if it is not needed. Instead, you should think about the type of projects you want to print, as well as future considerations. If you know you will be making the same type of printings for quite some while, then it is easier to consider the build dimensions. However, if you know your products will be changing, you will have to consider if you will need larger dimensions in the future.
For the Ender 5 Plus, the build dimensions are 350 x 350 x 400 mm. This is quite large and will allow you to have more opportunity to craft and create new ideas. In contrast, the Ender 6 is actually smaller, with build dimensions of 250 x 250 x 400 mm.
Be careful with these dimensions as they are counter-intuitive. It makes more sense for a next-generation product to increase capacity, when in actuality it is different with these two printers.
Frame material
Both the Ender 5 Plus and the Ender 6 have aluminum frames. Aluminum is an excellent material to construct a 3D printer from. It is incredibly durable, won't rust, and will last for quite some time. While you wouldn't want to test its strength by dripping it, the aluminum frame on both models will withstand a bit of hard use.
Nozzle and filament diameter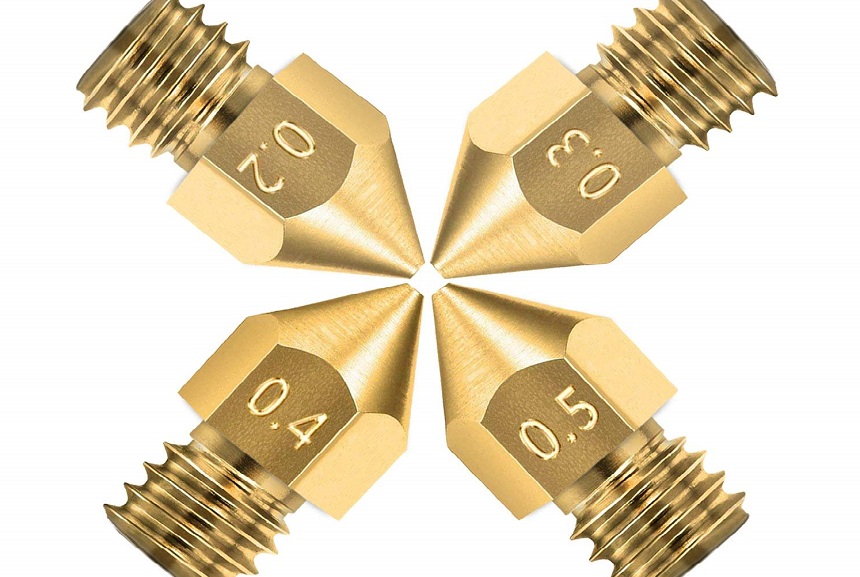 In order to get filament onto your surface, it needs to travel through a nozzle. The size of a nozzle will determine how thin the line is. While thin lines are great for intricate work, thicker lines provide more stability. These nozzles come in different sizes and the more options you have, the more creative you can be.
The Ender 5 Plus comes with three nozzle sizes. They are 0.2, 0.3, and 0.4 mm. On the other hand, the Ender 6 only has one nozzle with a size of 0.4 mm.
While 0.4 mm is a standard size and will allow you plenty of creations, if you know you want finer detail, then having the smaller options are clearly the way to go.
Print bed temperature
Your print bed is where your 3D model will take its shape. This is a crucial part of the entire printer. You want the filament to stick to the print bed so that you can craft your layers and have the model of your dreams. There is also a fine line with temperature. While a warmer temperature allows the filament to stick better, too hot and your entire structure will crumble.
Most 3D printers have print beds with temperatures between 90 to 110 degrees Fahrenheit. For both the Ender 5 Plus and the Ender 6, the maximum temperature is 110 degrees Fahrenheit.
Remember that you should start lower than the maximum to test out how well your first layer is sticking. Then, you can always adjust for a better outcome.
Filament compatibility

What makes both the Ender 5 Plus and the Ender 6 really stand out is their compatibility with many different filaments. While you may want to start with a basic PLA, if given the choice, you should definitely play around with your options. Below is a short list of what is compatible with both models. Please note that both models can be used with other filaments not on our list.
PLA – Polylactic acid is the most common filament for 3D printers. It is similar to ABS and has a high strength with low flexibility. It is very easy to use and you can make almost anything with it. Furthermore, while it won't compost in your backyard, is will actually biodegrade under the right circumstances, making PLA a better choice for the environment.
ABS – Acrylonitrile butadiene styrene is the second most popular filament, next to PLA. It has a high strength and a medium flexibility. ABS is very durable and will hold its shape for quite some time. It is not as common because it needs a high temperature to print and when cooling, it has the tendency to warp.
TPU – thermoplastic polyurethane has a medium strength and a very high flexibility to it. It is also very durable and will last for quite some while. This filament is common in more industrial designs, such as medical supplies and automotive parts.
HIPS – High impact polystyrene brings together strength and elasticity. It is good if you want to print your own packaging.
Wood – Unfortunately you can't actually print real wood, but you can print a wood-like substance. It is actually made out of PLA and when it cools, it looks just like wood. The layers create a ring-effect as if you carved your model right from a tree.
Dimensions and weight
As far as practicalities are concerned, the weight, length, and height of a 3D printer should not be overlooked. After all, you need somewhere appropriate to actually store your printer. We recommend that you think hard about where you want your printer to live and whether it needs to be moved when not in use. If this is the case, you will need to carefully measure two areas.
As for weight, this is a real concern if you plan on moving your 3D printer. While they aren't really portable, you may only need your printer occasionally. In this case, having a designated storage area will help free up valuable space in your work area.
The Ender 5 Plus has larger dimensions but a lower weight. It measures 24.8 x 26.2 x 24.3 inches, which is fairly boxy. At just under 40 pounds, it is not exactly light but one person will be able to manage moving it.
As for the Ender 6, it is smaller at the base with a fairly tall height. It measures 19.4 x 19.4 x 25.5 inches. However, this is a heavy 3D printer. The Ender 6 weighs 48.5 pounds. Although one person could carry it on their own, if you are unsure of your strength, it's better to ask someone for help as you don't want to drop this expensive piece of equipment.
Slicing software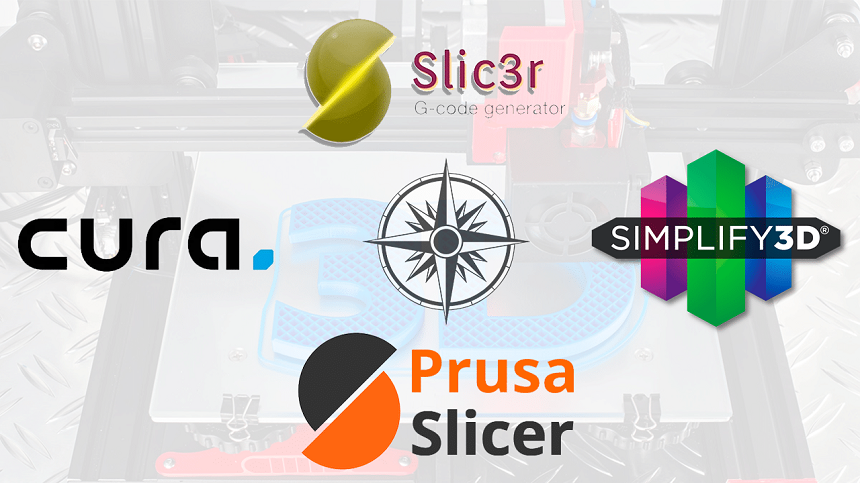 Once you have an idea of what your 3D model will look like, it is up to the slicing software to tell the printer what to do. There are many software options so it's best to find one with an interface that makes the most sense to you.
Both the Ender 5 Plus and the Ender 6 can be paired with the same types of slicing software. These include Repetier-Host, Cura, Slic3r, and Simplify 3D. Having so much choice means you can discover which one you like the most and try out a few if need be.
Performance Comparison
Whether you are a hobbyist or an entrepreneur, performance is key with a 3D printer. This is a major investment and you want your printer to be exactly what you envision it to be. The better the performance, the more you will use it and the better return on investment you will achieve. While performance is often tied to price tag, a good manufacturer will be able to provide you with quality performance at various price points.
Accuracy
Creality is a leading manufacturer of 3D printers because of their amazing construction. It should come as no surprise that their posted accuracy levels for both the Ender 5 Plus and the Ender 6 are 0.1 mm.
Printer accuracy is measured on a scale with anything higher than 0.5 mm bad and anything at the 0.1 mm level excellent. Therefore, no matter which printer you choose to go with, you can expect unparalleled accuracy.
Printing technology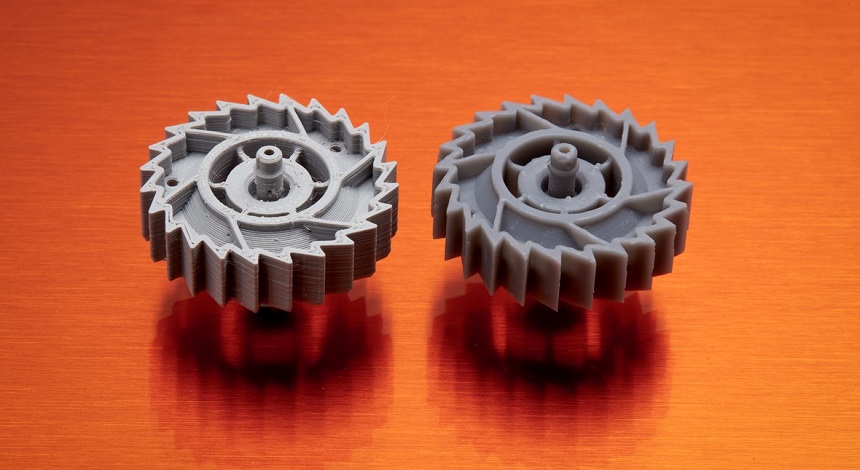 3D printing technology can be somewhat confusing to understand and may just be the reason why people are hesitant to enter this space. With so many acronyms, how do you know what is good and what works for certain projects?
FDM – Fused Deposition Modeling is when the filament that is used is pushed into a hot extruder. First, the filament is heated, and then it is deposited through the nozzle. The filament then enters the build platform and is built up in layers until the project is completed.
SLA – Stereolithography Apparatus was the original technology behind 3D printers. It uses a liquid resin along with a laser to create your product. The laser is housed at the bottom of a large vat that is then filled with liquid resin. Once the resin is exposed to the laser, it hardens, thus forming your model. Layers are also used in this production.
The Ender 5 Plus and the Ender 6 both use FDM printing technology. It is often more accurate and now seems to be the leader with 3D printers. Because of FDM technology, you have more options for the filament and overall, the price is a lot lower. FDM filament can cost at least half the price of SLA resin.
Printing speed
Companies love to boast about their printing speeds, so be sure to take this feature with a bit of skepticism. Printing speed is measured at millimeters per second, or mm/s. It involves how many millimeters of plastic can be printed in one second. Obviously, the higher the number, the faster your creation.
Now, along with the printing speed, you should also pay attention to accuracy. It doesn't matter how fast a printer is; if it isn't accurate, all that saved time is wasted.
The Ender 5 Plus states that it has a printing speed of 200 mm/s while the Ender 6 has a slightly slower speed of 150 mm/s. However, most people report that these speeds are nowhere near as fast. It's a good rule to cut the time in half so that you won't be disappointed. This isn't specific to the Creality company, though, as almost all manufacturers play up their printing speeds, using only the most perfect scenarios and not real-life circumstances.
Layer thickness
When it comes to 3D printing, the technology works by printing out one layer at a time. This is stacked on top of each other. Again, this thickness all comes down to your needs. While a thicker layer will provide more stability, if you want to print something with extremely fine detail, then a thinner layer will look better.
Both the Ender 5 Plus and the Ender 6 have a layer thickness of 0.1 to 0.4 mm. This is a standard range and means plenty of versatility. Because the measurement is so small, the range is actually larger than it appears. So, you can choose both fine detail and sturdiness thanks to the layer thickness options.
Ease of use
Even though the Ender 5 Plus and the Ender 6 are high-grade 3D printers, they are actually not as intimidating as you would think. Both models are very easy to use.
This ease of use is mostly due to the various options they come with. You can choose your own software, which makes interacting with the printers so much nicer. You can also choose from a variety of filaments. Furthermore, both come with a 4.3-inch LCD screen. Here you can quickly and easily navigate through your options, allowing you even more control over the final product.
Print bed leveling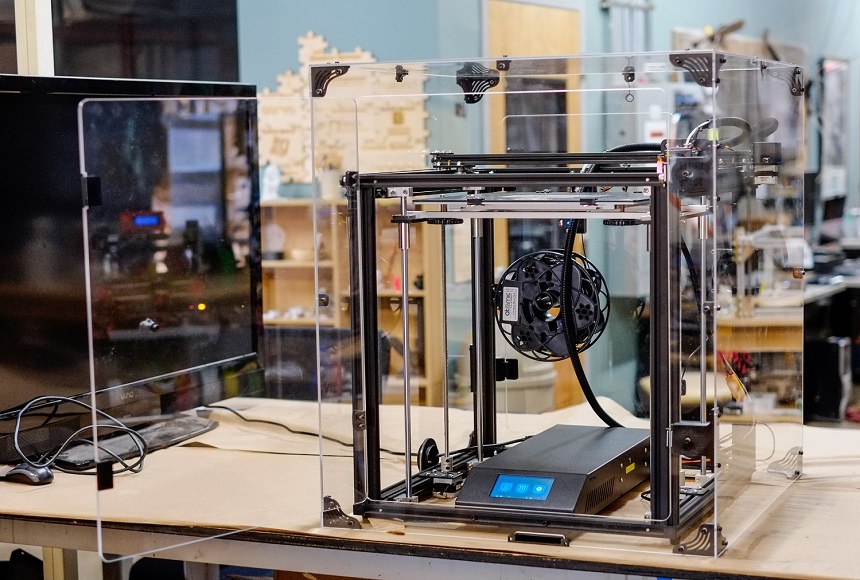 After all your design prototypes and testing of the best filaments and colors, it's time to get to the magic. But if your print bed isn't level, it can quickly spell disaster.
The print bed is where the magic happens and it needs to be completely level. Otherwise, your filament will drip off and your stability will be lost.
This is why it is so important to find a quality 3D printer. The Ender 5 Plus and the Ender 6 both excel in print bed leveling. When you set up either machine, you should be able to test out the level of the floor. If it isn't level, you can quickly go through the controls and make any adjustments.
Just remember that over time a 3D printer may shift. It's recommended to periodically test the levelness of your printing and make any adjustments if need be.
Noise
While not a deal breaker, the noise level of your 3D printer is nonetheless an important factor to consider. If you have your printer set up in your office or workshop, you don't want to be bombarded with a bunch of noise. Furthermore, printing can take a while if you have a large item, and even some noise can be annoying after a while.
The good news is that both the Ender 5 Plus and the Ender 6 are incredibly quiet. They use advanced, whisper quiet technology. While they are not completely silent, you can run them near you and not have to worry about losing focus.
Connectivity
How you connect to your 3D printer is incredibly important to know beforehand. While most models are fairly basic, there are always some extra bits of technology that can keep you on your toes.
The most basic format is using an SD card in your 3D printer. An SD card, or Security Digital card, is able to house great quantities of information. However, there is more to simply plugging in the card.
First, you will need to have the right software on your computer. Here you will design your model, adding all the necessary measurements and details. Once this is complete, you can then transfer the information to your SD card.
Finally, now you can plug the SD card into your printer. The information is transferred and you can connect with the printer to create exactly what you have envisioned.
Both the Ender 5 Plus and the Ender 6 require the use of an SD card. While you may be able to transfer the information via a USB cable, the SD card is the better, more reliable option.
In addition to using an SD card, the Ender 5 Plus also allow you to connect to a web interface. This can save you an extra step of transferring the information to the card. You may want to play around a bit and ensure you understand all of the required steps.
In Conclusion
3D printers are everywhere now Trusted Source The State Of 3D Printing, 2019 Proof of concept and prototyping dominate 3D printing applications in 2019. www.forbes.com , which is both a positive and a negative. While more choices means lower prices, it also means more confusion. The Ender 5 Plus and the Ender 6 are both 3D printers from the Creality company. They offer superb performance and are easy to use. While the Ender 6 is the newer model of the two, it does not have as many extras. If you want more choice with your nozzle size or your build volume, then the Ender 5 Plus is the better model. Whatever you choose, however, know that you are getting a premium product that will last you for years.
References
1.
Global 3D Printer Market Report (2021 to 2030 ) - COVID-19 Growth and Change
This report provides strategists, marketers and senior management with the critical information they need to assess the global 3d printer manufacturing market.
2.
The State Of 3D Printing, 2019
Proof of concept and prototyping dominate 3D printing applications in 2019.