Anycubic hasn't been in business for even a decade yet but they have still made a name for themselves in the 3D printing market. Their newest model is the Anycubic Photon Mono LCD 3D print model, which has a ton of great features without the excessive cost of many of the other 3D printer brands available.
This model is relatively compact and easy to use, even for beginners, which is only part of the reason why it has become so popular. If you're interested in this model but aren't sure if it's right for you, check out our Anycubic Photon Mono review for more information on what this printer has to offer.
This product's also been included into these rankings:
Specifications
Dimensions
8.9 x 8.7 x 15 in
Software
ANYCUBIC Photon workshop
Compatible materials
405nm UV resin
Max printing volume
5.1 x 3.1 x 6.4 in
Layer resolution
0.01-0.15 mm
Review
The Anycubic Photon Mono 4K is a resin 3D printer with several features that have been upgraded from previous versions to ensure it creates the highest quality prints possible. The following sections cover these features and everything else this printer has to offer.
Anycubic Photon Mono Overview
Anycubic Trusted Source Anycubic 3D Printing- The Leading 3D Printer Manufacturer Anycubic is committed to providing 3D printing solutions for education, medical, jewelry and end-use parts with the best and affordable 3D printers for creators and makers around the world. www.anycubic.com was founded in 2015 by childhood friends Lu Ouyang and James Ouyang. They began with a single 3D printer, the Anycubic Mega, with more models following soon after. As well as focusing on quality machines for their customers, they also believed in keeping costs low to ensure everyone could purchase one of their printers without spending a fortune. The Anycubic Photon Mono 4K is one of their newest models, offering long life, fast printing, and stability for the best results on any of the designs you have in mind.
Other models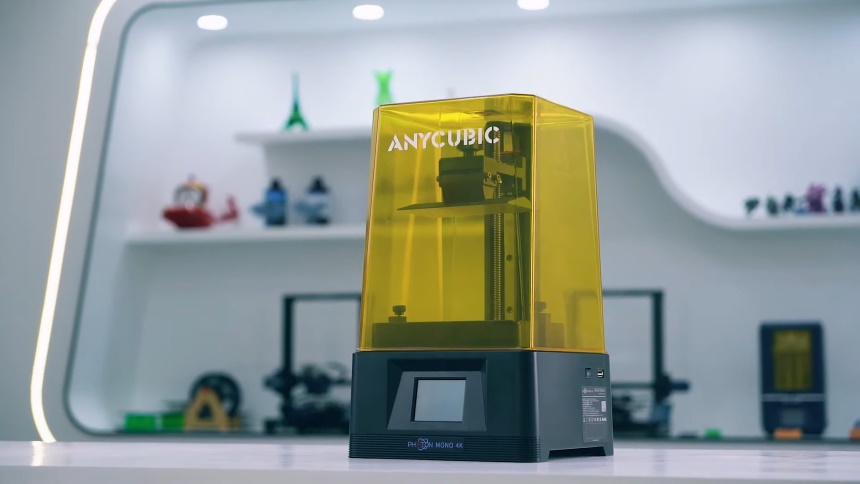 Anycubic has a few different 3D printer models available to choose from, though these are not all identical, so you can pick the one that suits your needs from the models they have available. The Anycubic Photon Mono X is similar to the Photon Mono 4K in several ways. They both have the same Z-Axis accuracy, offer a similar layer thickness range, and are compatible with the same types of resin.
The Photon Mono is somewhat bigger, which means it has a larger build area. It also has a higher XY resolution and a faster printing speed than the Photon Mono 4K. Of course, the more compact Photon Mono 4K is a great option for smaller projects. You can also try out the best 3D printers for miniatures for those little models that you have in mind.
What's in the box
The Anycubic Photon Mono includes several pieces and accessories when you purchase it. This includes the platform, cover, resin vat, power adapter, USB drive, funnel, scraper, and some gloves. There is also a service card, user manual, and a toolset, plus some resin to get you started after assembling the 3D printer.
There is very little assembly required for this model, so it's easy to put together, even for those who have never used one of these machines before. There is also some calibration required, though there are instructions and online videos to help with this process if needed.
Price
Not everyone can afford a high-end 3D printer, so it's great that so many of the best large resin 3D printers include a budget-friendly price. The Anycubic Photon Mono 4K model is one of these, with a low cost that makes it a good choice for beginners and those who don't want to spend a fortune on a printer for the models they have in mind. The same goes for other Anycubic models, thanks to this brand's belief in creating printers that are accessible to everyone.
Construction
The construction of the Anycubic Photon Mono is rather important since the parts used and the stability of the machine will determine how well it works and the quality of the finished models that you create using this 3D printer.
Overall dimensions and weight
Not everyone has a huge amount of space for a large resin 3D printer, so it's nice to find a compact machine that can fit in the area you have available. The Anycubic Photon Mono model has dimensions of 8.9 x 8.7 x 15 inches, so it isn't a huge printer that will take up a ton of space in your home or work area. This printer also isn't overly heavy at 9.9 pounds, so it is easy to move whenever you need it. This means that you can take it from work to home and back or leave it in a dedicated space that you have available at all times.
Build volume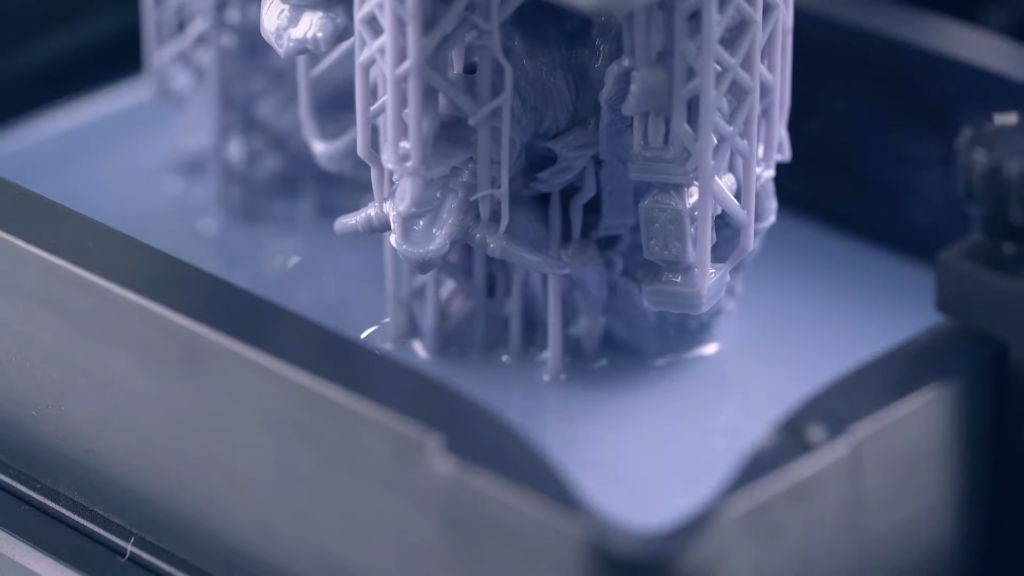 The build volume tells you how much space there is to build your models and therefore the largest ones you can complete using any 3D printer. The Photon Mono has a build volume of 5.1 x 3.1 x 6.4 inches, so you won't be able to make huge printed items but you can still make some cool smaller pieces for sale, gifts, or collections. Though you can't make overly large prints, the ones you do finish using this printer are quite detailed, so you are still getting a high-quality piece every time that you can add to a personal collection or use however else you like.
Filament
There are 2 types of 3D printers on the market. The FDM models use spools of filament, which is a long string of plastic that is melted and then deposited through the printer's nozzle onto the build plate. The design is created using one layer of filament at a time. This method is best suited for larger projects, plus it has the benefit of using a variety of filament materials for varying looks, strength, and even movability of the parts.
The Anycubic Photon Mono doesn't use filament, though. This 3D printer is an SLA printer, which is short for stereolithography. This technology uses a liquid resin that is cured using UV light to create the solid layers of the design. Instead of a nozzle that moves to create the layers, the print bed slowly moves up for each layer of the design. This method offers finer details on the prints, though it does take longer to complete each one due to the curing process.
Bed leveling
There is no automatic bed leveling included with the Anycubic Photon Mono, so it may require leveling every time you begin a new build. This isn't a difficult task, though, so it doesn't take long to get it at the perfect level for the build you have in mind. The Z-axis rail is also quite stable as it raises when creating your design, so you don't need to worry about any layer shifting or low-quality results.
Software and connectivity
Anycubic includes everything you need to use any of the 3D printers they create. This includes the software needed to run the machine. The Photon Mono uses the Anycubic Photon Workshop software, which has been designed to be used with their printers, so there are no worries about compatibility issues when trying to run your machine for any of the designs you have in mind.
For the connectivity, this model has a built-in USB port, so you can plug a flash drive into the slot or even hook it up to your laptop if needed to access the designs you have in mind. This makes it extremely convenient to use this machine both at home and at work since you don't need to use a specific device for it to work properly. You also don't need to keep your computer next to it at all times since you can just transfer your designs onto a USB stick and use that instead.
Performance
One of the most important factors to consider when choosing a new 3D printer is its performance. If a machine is built well but doesn't make quality prints or function as it's supposed to, it won't be a worthwhile machine to use. Let's take a look at what the Anycubic Photon Mono 4K has to offer in this area.
Ease of use
The Photon Mono 4K is rather easy to use, thanks to the various features it includes. First, it requires very little assembly, so you don't need to spend a great deal of time putting it together before you can use it. It has Anycubics software and that handy USB port for inputting your designs, so there is little fuss in this area as well.
The 2.8-inch touchscreen allows you to quickly scroll through the settings and choose the ones you want, plus its large size is simple to read and its location at the front of the 3D printer is easy to access. There is also a high-quality Z-axis rail, which is extremely stable, even when in motion, so you don't need to worry about it shifting as it layers the materials and ruining your design. This means less wasted resin since you don't need to constantly redo the designs.
Another handy feature is the top cover detection function, which allows you to set the machine to halt printing if the cover is removed at any time during printing. This feature also prevents it from restarting again until the cover is replaced on the machine. Even the FEP film is quick and easy to replace if it becomes scratched, adding to the convenience that the Photon Mono has to offer.
Slicer work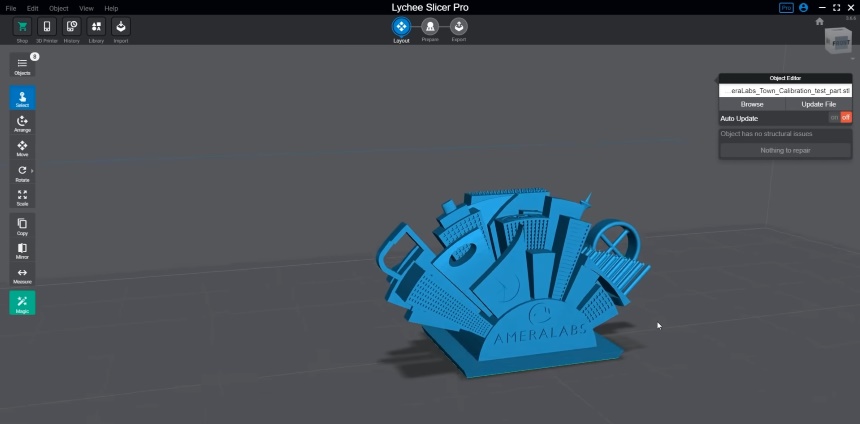 The slicer software included with the Photon Mono is the Anycubic Slicer Software, also called Photon Workshop. This software has some upgraded features from the previous models, one of which is a maximum of 16x anti-aliasing support. It also slices relatively quickly at up to 50mm per hour, plus it features hollowing, text paste, split modeling, and so much more.
Of course, every slicer software has some quirks that may need to be addressed. It takes some time to learn all the ins and outs of the slicer technology and there may be a few alterations needed at times. For instance, depending on the model, you may need to alter the cure times, adding more time to both the early and later layers. You may also need to alter the automatic supports on the foundation to ensure that they are strong enough to hold the design in place during the entire build.
Safety of use
There are some safety features included with the Anycubic Photon Mono resin 3D printer that make it a much more appealing machine than some of the others on the market. First of all, it has that handy cover, which protects you from almost 100% of the UV light used to cure the resin as the machine creates your design.
There is also the addition of a cover sensor function in the machine, which halts the build if the cover is removed. It also prevents the build from resuming until the cover is back in place, so there is little chance of harm from the dangerous UV light.
As for that UV light, this 3D printer uses Anycubic's New Matrix Parallel Light Source, which is made up of 15 LED lights for a safe, yet more powerful, light source. It is much more efficient and offers better heat dissipation than other light sources, giving your designs more uniform exposure for higher-quality results. The better the light works, the less you need to use it since you won't have to redo any of your projects.
The power supply that is used for this machine is also quite safe, thanks to the UL and ETL certifications and the CE marking.
Printing speed
The Anycubic Photon Mono doesn't have the fastest print speed when compared with some of their other models or a few similar brands. Of course, this model still offers quick printing, especially when you consider the fact that you'll only be building smaller objects with much more detail than you may expect from a larger 3D printer.
When printing even the largest model possible with this machine, the Photon Mono has a maximum print speed of 50 mm per hour. This is twice as fast as some of the other resin printers on the market, finishing a model in about 2.5 hours. With such quick printing, you'll be able to complete several pieces each day if you like.
The reasonable speed also allows the printer to include those intricate details that you may be looking for in certain pieces. For instance, if you're creating action figures, sculptures, or characters for a Dungeons and Dragons game, they will look as authentic as those you'd purchase from a store. This makes them suitable for gifts or for sale, so you can turn your 3D printing hobby into a business or use the models you create to benefit an existing one.
Resolution
One of the best features that the Anycubic Photon Mono resin 3D printer has to offer is the 4K high resolution. It uses a 4K Monochrome LCD Screen, which offers HD resolution of 3840 x 2400. This resolution provided by this screen has over 9.2 million pixels, which is a great deal more than previous printer models from Anycubic. Thanks to this amazing resolution, your 3D models are brought to life, with vivid, realistic detailing that you won't get with some other printers.
Another benefit that the HD Monochrome LCD screen has to offer is the 400:1 contrast ratio, which is 100% higher than the Photon 3D printer that came before the Photon Mono. Your completed models will have the sharp, clear corners and edges of professionally-made models. This allows you to create any design you want, no matter how intricate it is, without worrying about sacrificing quality. You can then use those designs for whatever you like or give them away to friends.
To keep the screen in perfect condition, Anycubic has also included a protective anti-scratch film with the printer. This prevents scratches or other marks from damaging the glass, so it lasts a great deal longer than other types. If needed, there are also replacement anti-scratch films available, so you can replace this one as often as needed to keep the glass perfectly clear.
Resin printing
Resin 3D printing uses a light source to cure the liquid used to create the models into a solid plastic. To do this, they need three components, including the light source, a resin tank, and the build platform that holds the design as it's created.
As we discussed above, the light source used with the Anycubic Photon Mono consists of 15 LED lights laid out in a very specific matrix for powerful and parallel lighting. The build platform is attached to the stable Z-axis rail. There is also a resin vat between the two that holds the liquid resin that is used to create the models you have in mind.
The Anycubic Photon Mono has been designed for universal compatibility when it comes to the liquid resin that can be used for your models.
Not only does this 3D printer work with ordinary 405nm UV resins, but it can also be used with any of the special resins on the market. This allows you to use whatever type of resin you like, including clear, tough, or flexible resins, depending on the model you're building.
Who Should Buy It?
One of the best things about a resin 3D printer like the Anycubic Photon Mono is that it can be used by almost anybody to create the models that they need.
For instance, architects can use one to create 3D designs of their buildings, engineers can create models to help solve water and airflow challenges, and companies can create prototypes of consumer products. Even those in the medical field can use 3D printer models for various uses.
The Photon Mono can also be used by those interested in building miniatures for themselves, their friends, or even customers. Game makers can create markers, tokens, or other additions to their games, like all of the pieces needed for a game of chess. Even cosplayers can use a resin 3D printer for partial or full costume pieces to match their favorite television, movie, or comic book character.
PROS
CONS

Decent price
Good build quality
Fast print speed
Easy to use

Requires multiple consumables
Strong resin fumes
Conclusion
The Anycubic Photon Mono is a compact, lightweight 3D resin printer that gives you the ability to create small models for almost anything you have in mind. It has great features, like amazing resolution, decent printing speed, and a variety of safety features, plus it has a budget-friendly price that can fit into any budget.
References
1.
Anycubic 3D Printing- The Leading 3D Printer Manufacturer
Anycubic is committed to providing 3D printing solutions for education, medical, jewelry and end-use parts with the best and affordable 3D printers for creators and makers around the world.