Whether you are a hobbyist or you are a professional designer, everyone deserves a high-quality 3D printer with great print quality. In an increasingly competitive market, the Elegoo Mars 2 Pro has caught the eyes of thousands of designers as a powerful, easy-to-use, effective, and inexpensive 3D printer.
If you are curious to know what this machine is all about, our Elegoo Mars 2 Pro review has got you covered. Testing this 3D printer, we were impressed by its ease of use, incredible print quality, build volume, LCD touchscreen, intuitive software, and more. Compared to its predecessor, the Mars 2 Pro brings a lot of improvements. Read on to learn everything this printer brings to the table!
This product's also been included into these rankings:
Specifications
Dimensions
7.87 x 7.87 x 16.14 in
Modeling technology
UV Photocuring
Compatible materials
resin
Max printing volume
5.08 x 3.15 x 6.3 in
Layer resolution
0.01-0.2mm
Review
You cannot operate the Elegoo Mars 2 Pro and not be impressed by its array of great features. Below, we will dissect the various features of this printer and discuss how they affect your results in the end.
Elegoo Mars 2 Pro Overview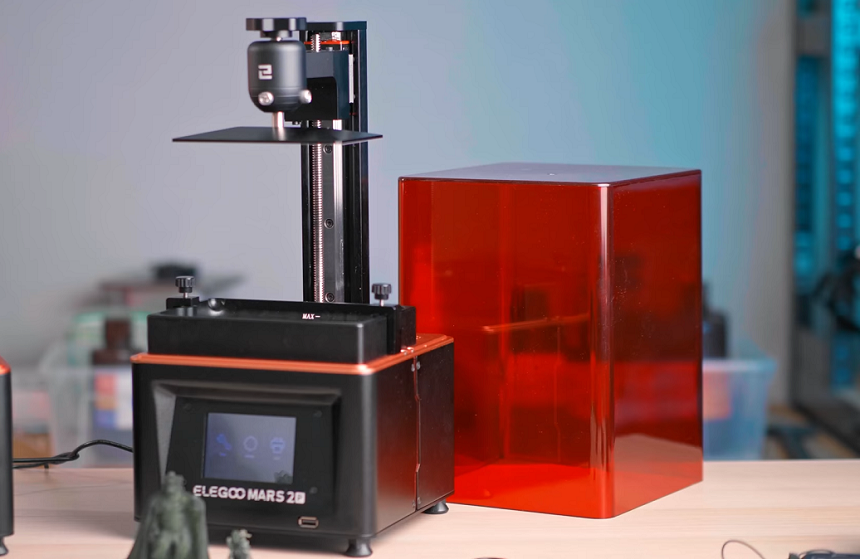 As we suggested before, the Elegoo Mars 2 Pro is packed with several features that make the printer the impressive machine that it is. Weighing 13.67lbs (6.2kg), this machine is far from the heaviest 3D printer and can be easily transported. Moreover, this printer is made of CNC machine aluminum, from the build platform to resin vat.
Thanks to the aluminum construction, Elegoo Mars 2 Pro boasts an extremely solid build quality and durability. Then, there is the sandblasted build plate which provides you with a strong adherence during printing and allows consistent printing success. Talk about a reliable machine that always delivers!
Additionally, it boasts a 6.08-inch Monochrome LCD panel with 2K HD resolution even though we would have preferred 4K resolution. Nevertheless, the resolution works great and offers great value. Plus, mono LCD offers stable performance and a long lifespan during long-term printing, thus saving you costs.
Also, the Elegoo Mars 2 Pro printer features a multi-language interface. More specifically, it supports 12 different languages, including English, Chinese, Spanish, German, Japanese, Korean, Dutch, French, Italian, Russian, Portuguese, and Turkish. With this multi-language interface, this printer makes life easy for most users worldwide.
Furthermore, the Elegoo Mars 2 Pro features built-in activated carbon to ensure an incredibly refreshing printing experience. This carbon filter can absorb the fumes of resin and keep the foul smell away from you. Combined with the included rubber seal and turbo cooling fan, you will barely smell any offensive odor.
More so, the Elegoo Mars 2 Pro uses the COB UV light source to ensure uniform light emission, high luminous maintenance rate, great heat dissipation performance, and no spots. Hence, each printing gets to come out perfectly with excellent precision as you want.
Besides, the Elegoo Mars 2 Pro runs Chitu firmware, meaning ChituBox will be your go-to slicer. Interestingly, the printer comes with a printer profile already fixed in the slicer. That means you can get the printer to work out of the box! With an added anti-aliasing function, you get a very smooth printing surface for the best results.
Finally, the Elegoo Mars 2 Pro comes with a 6-month warranty that covers the 2K LCD. There is also a 1-year warranty that covers the whole printer in case of damage.
Elegoo Mars Pro vs. Elegoo Mars 2 Pro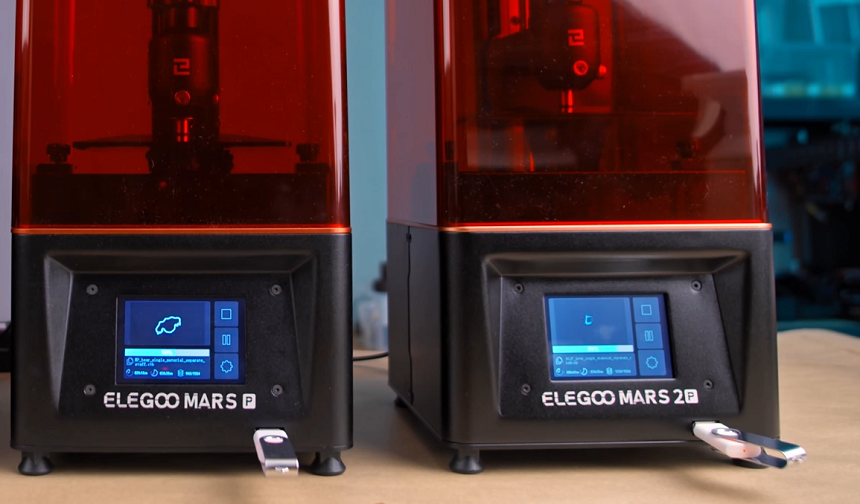 As we suggested earlier, the Elegoo Mars 2 Pro has a predecessor. Specifically, the Elegoo Mars 2 Pro is the successor of the Elegoo Mars Pro. Unsurprisingly, the Elegoo Mars 2 Pro comes with several improvements that range from LCD resolution to build volume, layer cure time, and more.
From the outside, you might struggle to tell the difference between the two Elegoo 3D printers. However, you will find many differences when you look inside.
First of all, the Mars Pro features a build plate measuring 120 x 68 x 155 mm while the Mars 2 Pro's build plate measures 129 x 80 x 160 mm. Hence, the Mars 2 Pro has a larger build volume to print bigger designs than the Mars Pro.
There is also a difference in terms of the LCD resolution of the two models. While the Mars Pro has an LCD resolution of 1440 x 2560 pixels, the Mars 2 Pro features a resolution of 1620 x 2560 pixels. That means the latter is designed to deliver clearer results.
Also, the Mars Pro features a print plate with a CD-like concentric texture. In contrast, you will find a coarse, sandblasted texture on the plate of the Mars 2 Pro.
And we cannot ignore the difference in curing time too. While the Mars Pro has a layer cure time of 6 seconds, the Mars 2 Pro boasts a lower cure time of 1-2 seconds.
The improvement on the Mars 2 Pro's cure times is a result of a more powerful light source. Specifically, it uses a single, powerful UV lamp instead of the LED matrix of the Mars Pro. The UV lamp features a lens that scatters the light equally over the whole surface.
Despite the many improvements that the Elegoo Mars 2 Pro has on the Mars Pro, we encountered a major disappointment. The Mars 2 Pro lacks a layer of glass that is supposed to shield the printer's LCD. The Mars Pro, on the other hand, features a shielded removable LCD.
However, the newer monochrome LCD does away with the glass fixture for an undetachable LCD that doesn't have the protective glass. Due to the absence of protection, the display is at risk of scratching easily. Imagine a regular smartphone without a protective screen cover; its screen will quickly get scratched.
If this provides any solace, from our experience, the Mars 2 Pro's LCD is not one to scratch easily. Notwithstanding, we would have preferred that there is a protective cover on the LCD for optimum safety.
What's in the box
When you unbox the Elegoo Mars 2 Pro, you will find a lot of items apart from the main unit. While some items ensure that the printer operates effectively, some look after your safety. Below are the items you will find in the box of the Elegoo Mars 2 Pro:

Assembled printer x1
Resin Tank x1
Build Platform x1
Metal Scraper x1
Plastic Scraper x1
User Manual x1
Glove x3
Masks x3
Funnel x10
UL Adapter x1
U Disk/USB drive (2 GB) x1
Power cable x1
Backup Screws x1
Silicone rubber seal x1
We must add that the Elegoo Mars 2 Pro 3D printer comes almost fully pre-assembled except for the silicone rubber seal that you will have to fix into place yourself.
Price
Generally, buyers are very concerned about how much they purchase stuff because they do not want to overpay. Also, they want an item that provides great value for money. Impressively, the Elegoo Mars 2 Pro is an attractive 3D printer when it comes to the price. As we mentioned at the beginning of this article, this printer is an inexpensive one.
Besides, the Elegoo Mars 2 Pro is considered a budget printer in the market. Despite the relatively low price, this printer is not lacking in quality. This makes the product a popular choice among several buyers. Of course, no one wants to spend $500 on a 3D printer when they know they can get something similar for much less than $400.
Overall, the Elegoo Mars 2 Pro is one of the most cost-effective options on the market.
Construction
There is a lot to know about the construction of the Elegoo Mars 2 Pro and we will share the most important details with you below:
Overall dimensions and weight
No one wants a printer that takes up all of the space in their room. Measuring 7.87 x 7.87 x 16.14 inches (200 mm x 200 mm x 410 mm), the Elegoo Mars 2 Pro takes only a small space in the room. If you do not like a machine that takes too much space, this printer's compact design is sure to attract you.
And if the Elegoo Mars 2 Pro's dimensions are not enough to attract you, the printer's weight will be. Measuring only 13.66 lbs/6.2 kg, this machine is relatively light to transport. This is a huge plus, especially if you want a printer that you can take from office to home regularly. Frankly, the compact design and low weight of the Mars 2 Pro are the real deal.
Controls and screen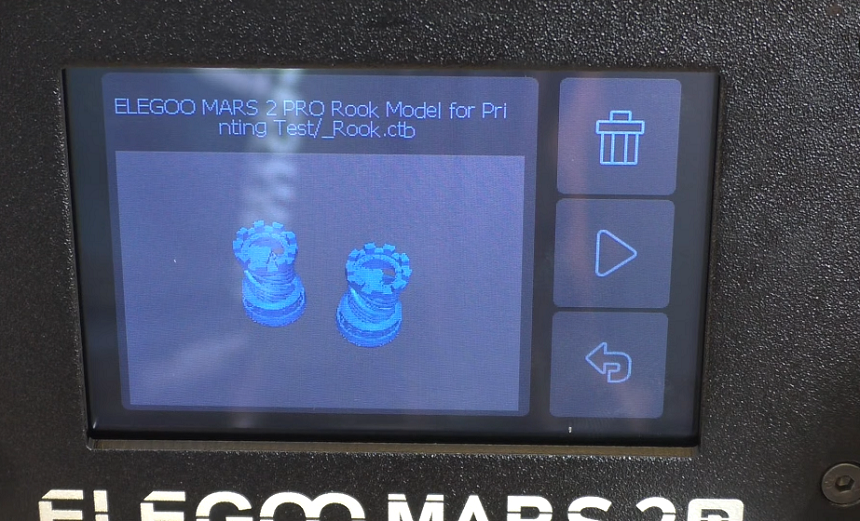 When it comes to operating the Elegoo Mars 2 Pro, there is not much to think about. With this printer, you do not have multiple confusing buttons to deal with. Its 3.5-inch LCD touchscreen features various symbols that have different functions. Simply click on any relevant symbol to operate the machine. It's like operating your smartphone.
When we were testing the controls of the Elegoo Mars 2 Pro, we conducted a printing test with the popular Elegoo Mars Rook files. You'll find these files on the included USB stick. Simply insert it in the printer's USB slot located at the front of the unit. Once you are in, the screen will display an image of your prints.
You will find a "Play" button which will begin the printing process once you tap it. The touchscreen will display the time the print requires to finish, the number of layers, and the time elapsed. With the print in progress, you can tap the settings icon to check and learn some of the basic settings. It takes a few hours for the Rooks to come out.
Overall, the Elegoo Mars 2 Pro's touchscreen makes life easier for the designer by ensuring ease of control.
Filament
In the case of filament, the Elegoo Mars 2 Pro uses UV resin. The printer comes with a resin tank which you will fill with resin material. If you are wondering how resin works, you are in the right place. The printer drives the build platform down to produce a thin layer of resin making contact with the build plate.
The Elegoo Mars 2 Pro's light source then draws the pattern of the resin, making it solidify. Also, the build platform moves to let the non-solid (uncured) resin come through and create a new layer on top of the plate. With this printer, you will need to repeat these processes until your whole project is formed.
After completing the process, you can remove the object from the printer for post-processing. The post-processing of your resin print requires some steps that we will discuss below:
Washing – This is the first step of post-processing resin print from the Elegoo Mars 2 Pro. You need to wash the print to get rid of uncured resin leftovers from it. You will need materials such as water, alcohol to do the washing. Dip the print into water or water.
UV-curing – Apart from removing uncured resin leftovers, you will need to solidify through print. This step involves exposing your print to a UV lamp or sunlight.
Supports removal – This step requires you to remove every supporting structure from an object. As you probably know, resin printing needs several tree-like supports to keep an object in place and stick it to a build plate. This effort is to prevent a part of the object from falling. So, at the end of printing, you will need to remove these supports.
When removing the supports, you will need to be careful so that you can avoid removing too much of the object's volume.
Sanding – This process helps you get rid of taps from parts where supports contacted an object. It also helps you smooth the surface of the print or simply make it matte. You will need dry sanding or wet sanding tools to carry out this task.
Wet sanding tools include common sanding papers, polishers, and special liquids. This type of sanding produces a smoother surface for your print.
Finishing – This involves covering parts of an object with coatings or special compositions to strengthen the parts and mask imperfections.
Polishing – For this process, you will use special compounds to make the surface of the print clearer and smoother. This helps to return the transparency after sanding.
Bed leveling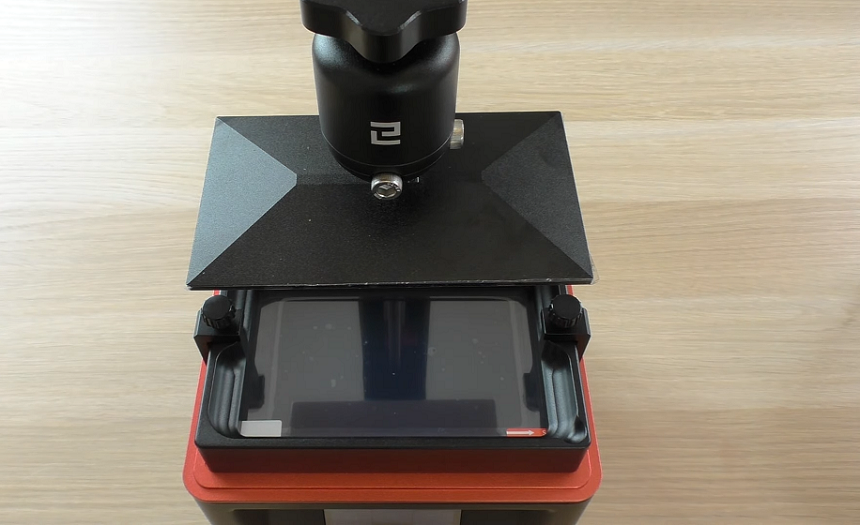 The bed leveling of the Elegoo Mars 2 Pro is another interesting part. This printer's bed leveling is manual (assisted). That means the print bed does not level automatically, you have to do it manually. This printer's print bed is mounted with a spring in the ball joint. This makes sure that the print plate can't push too hard into the screen and damage it.
However, we do not expect this to happen because the Mars 2 Pro's Z-zero is already set accurately at delivery. Besides, this printer's bed leveling feature is accurate, simple, and continuous. All you need to do is level the print bed properly and you will be able to make multiple prints in a row smoothly.
Furthermore, the Mars 2 Pro's bed leveling process is supported by the printer's menu and only requires your finger, a piece of paper, and the appropriate Allen key (included). It doesn't matter if you use normal paper but it must have a thickness of about 0.1 mm.
Moreover, the Elegoo Mars 2 Pro's print bed leveling is performed in certain steps which we will highlight below:
Loosen the two screws on the printing bed's ball joint.
Place a piece of paper on the touchscreen as a leveling guide. The paper should be as wide as the print bed.
Click "Set Z=0" via the printer's menu to tell the machine that this is the correctly leveled home position.
Then, press down on the print bed evenly with one hand while tightening the hex bolts with the other hand. This ensures that the print bed doesn't move as you tighten the screws. This completes the print bed's alignment.
Next, you need to adjust the Z zero point by moving the print bed up/down in 0.1 mm steps through the menu. Repeat this move until you are able to move the piece of paper between the LCD screen and the print bed with some resistance.
Now, you can fill up the resin tank and ensure that it does not exceed the "MAX" level. We advise raising the build plate to a good height, so it is easier to pour the resin.
Then, place the silicone rubber seal on the tank's lid and close it. Now, you are ready to start your first print!
How do you know the print bed is not skewed? Test with a thin piece of paper. If you can move the paper between the LCD screen and the print bed more easily on one edge than the other, you will need to realign the bed. This isn't a necessary move since the print bed is well-supported but it's always better to be 100% sure.
Software and connectivity
By now, you know that the Elegoo Mars 2 Pro runs Chitu firmware. This makes ChituBox the printer's go-to slicer. More impressively, the machine works out of the box because a printer profile is already locked in the slicer. Also, the Mars 2 Pro enjoys the benefits of ChituBox's lightweight .cbt file extension.
Moreover, ChituBox helps to slice and write files quickly. However, it may struggle a bit when it is handling plates full of complex models and large prints. Generally, this software is quite capable and you won't regret having it in your corner.
Remember that the Elegoo Mars 2 Pro comes with a USB drive. You can download ChituBox from this drive and find that it has already made profiles available for your printer. Plus, this software is user-friendly. And it enables plenty of optimizing once you are comfortable with the basics.
Besides, the included USB stick features a test STL file that you can initiate directly without slicing. Elegoo has already sliced the object and is ready to print. However, we do not recommend testing the model because it lacks supports on its underside.
The test object is an intricate chess tower featuring a flat base. Such bases are easily defective when you try to remove them from the printing plate. Without the right supports, you will find the object nearly impossible to remove from your printer.
In our experience, this is not a situation you want to find yourself. We had to resort to brute force and hot water before we could detach the object. Notwithstanding, you can still test the object by putting the right things in place.
You already know that UV resin is very brittle after curing. Hence, you should build a few supports into the file. That way, you can remove the object more easily and avoid damage to the edge when removing it.
Finally, ChituBox runs on Windows and Mac OS X devices. So, whether you own a Windows or Mac computer, you are good to go with this software.
Performance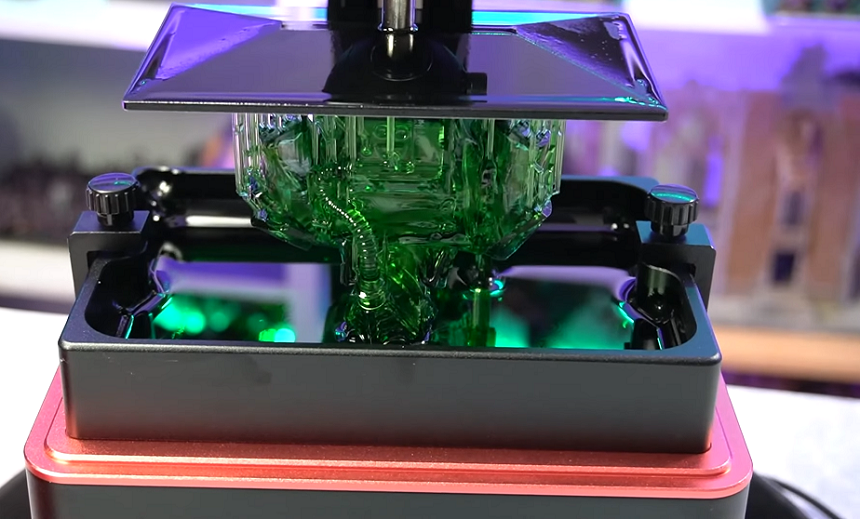 Away from the details of what makes the construction of the Elegoo Mars 2 Pro, we will discuss features that affect the performance of the printer below:
Ease of use
The Elegoo Mars 2 Pro boasts a lot of positives among which is the ease of use. This machine is one of the most intuitive 3D printers you will find on the market. It is boosted by its 3.5-inch LCD touchscreen that makes controls easy to access and use. Overall, operating the Elegoo Mars 2 Pro is not complicated and it takes a short time to understand how the controls work.
Modeling technology
When it comes to modeling technology, the Elegoo Mars 2 Pro uses LCD-based SLA UV Photocuring. Interestingly, SLA is regarded as the most mature 3D printing technique Trusted Source Photo-curing 3D printing technique and its challenges Different techniques of photocuring 3D printing were overviewed. www.sciencedirect.com  in the industry. Apart from this technology's high maturity, it also offers a stable printing process. Plus, it is ideal for printing large-size models.
However, the larger the size of the model, the slower the printing rate. Compared to other photocuring technologies, SLA has low resolution. Nevertheless, this technology's precision is good enough to print intricate and complex objects.
Additionally, Elegoo Mars 2 Pro's SLA technology makes the printer ideal for use in various fields such as toys, molds, automotive, dental, aerospace, and more.
Build volume
With the Elegoo Mars 2 Pro, you will have a build volume of 5.08 x 3.15 x 6.3 (129 mm x 80 mm x 160 mm) at your disposal. The printing size is a bit bigger on the vertical axis (Z-axis) but we advise that you stick to the recommended size to ensure a problem-free print.
Moreover, the Mars 2 Pro's build volume is not very impressive, making it one of the few drawbacks we found while testing it. Unsurprisingly, this limited build volume also discourages professionals who prefer larger prints.
Also, the smaller volume did not surprise us because the build plate of resin-based printers has to be completely submerged in specialized UV resin to function.
Despite the disappointing build volume of the Mars 2 Pro, the space is good enough for printing smaller models. Plus, a lot of larger models can be divided into sections to print if you do not want to invest in a larger printer or you do not have space for it.
Except you are constrained by the need to print larger figurines, the Mars 2 Pro is good for the money because it has many more pros than cons.
Safety of use
We won't pretend and say the Elegoo Mars 2 Pro is the safest 3D printer out there. Nevertheless, it is not any more dangerous than other printers. As expected of a top brand, Elegoo makes efforts to keep you safe with the included disposable masks and latex gloves. Those should get you started because you will need to buy additional ones later on.
Of course, you now know that the Mars 2 Pro uses UV resin which is a toxic substance. This substance emits toxic fumes that can make you sick. Plus, it creates allergic reactions when it touches your skin. This isn't surprising as your immune system naturally reacts to invaders Trusted Source Allergic Reaction AAAAI, the experts in allergy and immunology, provide an overview of allergic reaction www.aaaai.org .
To avoid trouble with UV resin, we advise that you wear your gloves and masks properly. Also, you should wash the substance off immediately if it touches your skin. Additionally, only use the resin in a well-ventilated room.
Printing speed and accuracy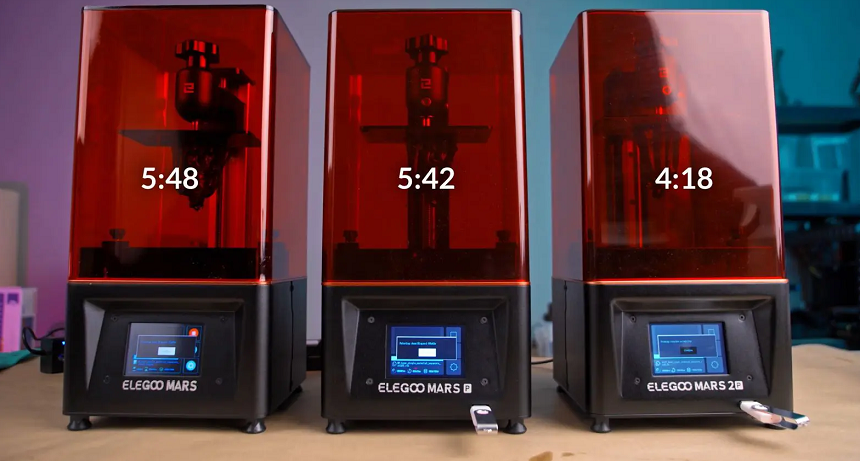 In terms of speed and accuracy, the Elegoo Mars 2 Pro is quite impressive. With a print speed of 30-50 mm/h, this printer gets your work out in time and that's all thanks to its monochrome LCD. This LCD allows passage for a greater intensity of UV light, thus forcing the reaction that makes photopolymer resin solidify faster.
This component allows the printer to accomplish quick layer cure time. Specifically, the Mars 2 Pro achieves cure times as low as one to two seconds. The monochrome LCD also offers longer service life.
Resolution
The Elegoo Mars 2 Pro uses a 2K LCD with a resolution of 1620 x 2560 pixels. This resolution allows you to acquire a boxel (minimum printing area in X/Y/Z) of 50 microns. Although the Mars 2 Pro has a technically finer resolution that works great, we were a bit disappointed that it has a lower pixel density than its predecessor.
Overall, the Elegoo Mars 2 Pro's resolution delivers great results even though we would have preferred it to be better.
Who Should Buy It?
The Elegoo Mars 2 Pro is made for various categories of designers, including:
Original Mars non-Pro owners who want to upgrade
Architects
Dessert makers
Cookie cutters
Hobbyist designers
Anyone who makes models and miniatures
If you are interested in more options, you can consider looking at the best 3D printers for architects or the best 3D printers for cookie cutters.
PROS
CONS

Cost-effective
Sturdy design
Precise and detailed prints
Fast layer curing
Integrated carbon air filter

Noisy fans
Build volume is limited to rather compact designs
Conclusion
Every designer deserves a 3D printer that delivers excellent prints without digging a hole in their pocket. As our Elegoo Mars 2 Pro review has revealed, this 3D printer provides you with excellent service at a great price. Surely, this is a machine you do not want to pass on.
References
1.
Photo-curing 3D printing technique and its challenges
Different techniques of photocuring 3D printing were overviewed.
2.
Allergic Reaction
AAAAI, the experts in allergy and immunology, provide an overview of allergic reaction